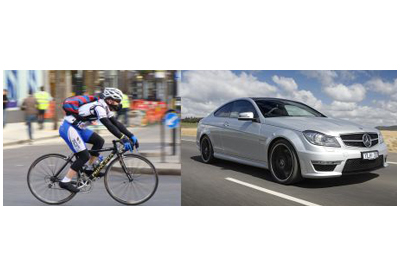 Call me a pessimist, but one has to admit that there is an awful lot of bad tension between cyclists and motorists these days. The motorist will complain of the cyclist always being in the way, not abiding by the rules of the road and consistently putting themselves in the way of danger. The cyclist will complain of the motorist as being insensitive, not respecting their right to the road and using their heavier and powerful form of transportation to bully a cyclist off the road. Despite these tensions, the two must coexist and to do so, automakers are working on technology to help the motorist be more alert of the cyclist. A computer aided detection system like the one Volvo has developed can help put cyclists at ease and help make the road a safer place for everyone who rides on it. Volvo's pedestrian and cyclist detection system includes a full auto brake capability that allows the vehicle to react even before the driver. Volvo claims the technology is an advancement of their pedestrian detection system released in 2010 because it can now capture "cyclist specific situations" and act on them, hence the renaming of the system. [Did you know Tesla wants to build a self driving car by 2016? Read more HERE] Despite this cool technology safety-savvy car makers are developing, most of us drivers and cyclists should still exercise caution for one another so that some of this tension can be quelled.  Here are some tips to keep your road companions safe:
Motorists
1.Remember you drive a big, heavy car that can hurt people. If a cyclist frustrates you, never react violently as it may seriously hurt the cyclist or possibly kill them. Think of your car as a weapon that should never be used to hurt anyone.
2.Share the road. A cyclist has a right to the road, give them space to ride on the right side of the road and when they need to turn into your lane understand that their hand signals are indicators that they need to get over, slow down and let them in.
3.Try to avoid speeding around a cyclist. Sometimes you just want them out of your way, I understand that, but if something were to happen with the cyclist, you will have less time to react if you have your foot stepping hard on the gas pedal. Maintain a safe speed when going around them.
Cyclists
1.Follow the rules of the road. You are required to act as a motorist on the road, which means you are subject to stop signs, stop lights and signal laws. Keep yourself safe by helping others on the road know you are there. The rules are there for a reason, because they keep us all safe.
2.Beware of overly aggressive drivers. These people aren't safe for anyone on the road but these drivers that engage in reckless driving are a bigger threat to the safety of a cyclist than anyone out there. Keep to the right and always be aware.
3.Don't be reckless, be safe. If you are sharing the road with cars, trucks and motorcycles, they can all cause serious damage and if you are being reckless in the way you ride, bad things are more likely to happen. [These DRIVING HABITS WILL EARN YOU COUNTLESS ENEMIES]
Stay safe out there everyone!