It is well known that vehicle replacement parts are available in OEM and aftermarket options. Aftermarket parts are usually available either as direct-fit or universal options. This page discusses direct-fit and universal-fit replacement catalytic converters. Direct-fit catalytic converters exactly match the design of the OEM part. Whereas, universal-fit converters come in a specific design and can be made compatible with a number of vehicles with minor alterations.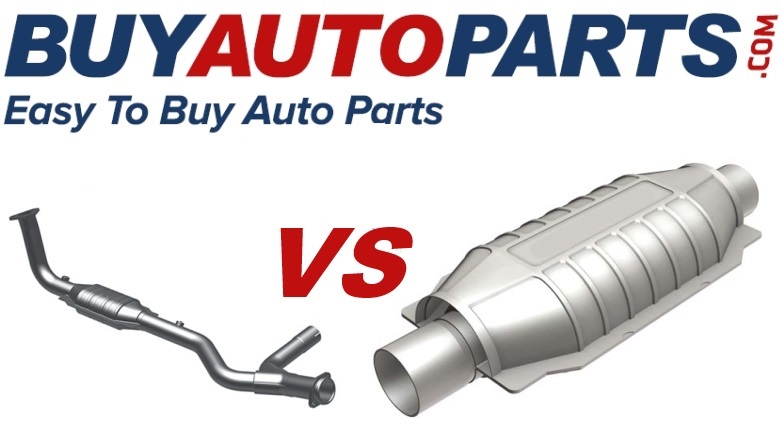 Direct-Fit Catalytic Converters
Manifold and direct-fit catalytic converters are designed to bolt onto the vehicle without any additional adjustments to the mount space and the exhaust system. They are manufactured using the features and constraints specific to the vehicle in which they are installed. They are available along with their requisite accessories such as flanges, pipe extensions and brackets. Direct-fit converters generally cost more than universal cat converters.
Direct-fit converters are the perfect option for DIYers who are well-versed in replacing catalytic converters and want to complete the job without using the tools that only shops would be equipped with. We recommend getting a direct-fit catalytic converter if your vehicle has an exhaust system that is still factory-fitted or OEM-styled.
Universal Catalytic Converters
Universal converters do require any modifications to the system, but are made to fit a wide range of applications. These converters are generally cheaper than direct-fit converters. But, installing a universal-fit cat converter is not a simple job and will require the necessary tools to cut the pipes to length, to fit them onto the new converter. Universal-fit converters need the associated components and vehicle-specific parts to be purchased separately, and then assembled together. Therefore, it is better to hire a professional mechanic to install a universal cat converter. It also involves a lot of physical work and time.
We recommend this option if the exhaust system is currently fitted with a universal converter or if you are looking for the most cost-efficient converter.
Sometimes fitting a universal converter into a vehicle can be difficult due to the vehicle's design. So, while choosing the converter for your vehicle, take your vehicle's design into consideration along with any other features that could affect the installation. If you are unsure, you can always check with a mechanic as to whether to buy a direct or universal-fit converter.
Be it a universal or direct-fit converter, make sure it follows the compliance standards specific to your state. While replacing the catalytic converter, check the oxygen sensors and get them replaced if they are defective, as well.
Related Links:
To know what a catalytic converter does in a vehicle and the sources and indications of its failure, please refer to this link: Basic Knowledge About Catalytic Converters
To ascertain whether your catalytic converter is at fault, you can refer to the simple diagnostic procedure explained in this link: Diagnosing a Bad Catalytic Converter
BuyAutoParts.com stocks an extensive range of universal-fit and direct-fit catalytic converters. To make things simple for you, we have created the 'select your Vehicle' section above, from where you can choose the right year, make and model of your car. This will direct you to the list of parts that best match your vehicle. If you are looking for a brand-specific part, you can go to our brands section and find the right replacement for your converter.
If you are have any trouble selecting your parts online, you can reach us on our toll-free number or drop us an e-mail. Take a look at the shipping and warranty pages to learn about them.