Having to replace your struts can be a nuisance. Many think holding off on this repair is not that big of a deal; the good ole "my car will be fine" reasoning. Well if you want good advice, I would avoid that train of thought like the plague! [Read this post so you can know when to replace your struts] Just because you have to replace your struts does not mean you have to break the bank, there are plenty of ways to save. Read our five important factors to consider when calculating strut replacement to help you save!
1. Spend more now, save money in the long run
If there is one thing you take away from this article it is that if you need to replace a strut in your vehicle, then you should replace it in a set.
"You're just trying to get more money out of me!"
No, we're trying to save YOU money. Most struts fail due to wear and tear that is unavoidable. While one strut may go out before the other one(s), it also means the other one(s) is (are) not far behind.
You're probably asking how buying two saves money? Well, if you buy the one strut you need to replace right now, you will only pay for one, we get that. But if a month or two down the line you end up needing to replace another strut, then you will have to buy the other one, and pay someone to replace only one again. You would have saved on labor had you replaced both (or all 4) at once. A mechanic will get sets of work done much faster than doing each job individually over time, and we all know that mechanics have a very high hourly rate. Replacing only one also sacrifices ride quality and a balanced ride, as the lone new strut will not be enough to restore either of these.
Will your other strut(s) surely break soon? No, but like I mentioned earlier since wear and tear is the most common reason you need a new strut, the other struts are not far behind. They ride on the same roads as the strut that went out, so our professional suggestion is just replacing all the struts or at the very least the front set or rear set.
2. Buying in pairs or a complete set can save you money on the part as well
Take this advice from us, we sell the parts. All retailers offer discounts on pairs and sets of parts because it is more convenient for the retailer to move the product in bunches rather than individually. At BuyAutoParts.com you can save up to 10% on parts if bought in kits, pairs and sets.
3. Confirm you need struts
The term struts is sometimes mistakenly used for shocks, and vice versa. It's a simple mistake to make as the parts are similar in function but are also mutually exclusive. You will need to know whether your car has shocks, or struts. Lucky for you, if you do need shocks for your car instead of struts then all the same information mentioned in this post applies to you, just make sure you don't need struts
.
4. Choose the right struts
As you can expect there will be options available to you for which strut to buy. If you want the stock replacement of what you already have in your vehicle from the factory, then use our year, make and model search bar above. This handy tool will take you to the exact part for your car after verifying any other qualifiers your car might need to have verified. It is important to note that knowing details about your car such as engine size, trim, and sub-model will always help.
You could also decide whether to buy just a strut, or a complete strut which is the full strut plus the spring. A complete strut (or quick strut as many call them) costs more, but save you money on labor since you don't have to compress the coil springs and take apart the existing strut assembly.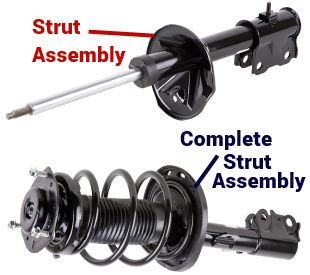 The next things to consider are the cost of the struts you need and the materials each option is made of. If you are looking for the best prices, steel struts are going to be cheaper than aluminum struts. You can get aftermarket steel struts, OE quality steel struts, aftermarket aluminum struts and OE quality aluminum struts (listed from cheapest to most expensive). Expect to pay more for performance upgrades and if you want to upgrade to coilovers for the best ride quality those are going to be the most expensive (only for select vehicles). If you want OE quality struts sticking with recognized brand names like Bilstein or KYB is the way to go. Duralo is a great aftermarket brand that ensures quality in all their suspension parts.
5. Choose whether to buy online, buy in-store or buy at the dealership/shop
This comes back to price. If you choose to buy online, you will get quality parts at the cheapest prices. If you choose to buy in store, you typically save money over shops and dealerships but prices rarely match online prices. Dealers and shops always have the highest prices (with dealers being higher than shops) because of a certain markup on the parts. There are certain advantages to choosing each; convenience is the only real advantage of buying at the dealer/shop, saving a little bit of money and availability of parts is usually the advantage of buying in a parts store, and price, options and quality are the advantages of buying online.
Written By Dara Greaney