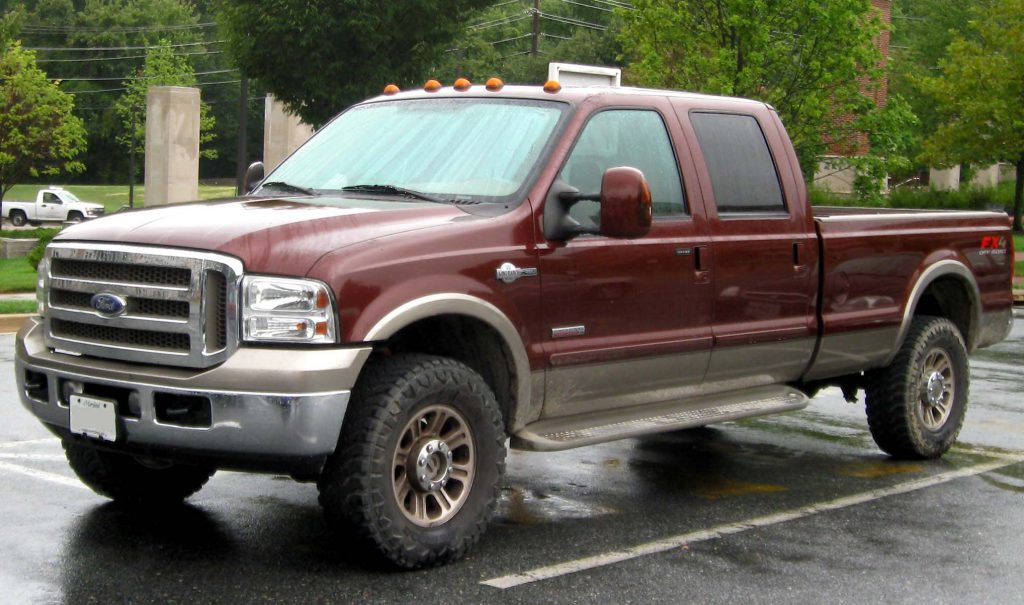 The Ford 6.0L PowerStroke diesel engine is a little controversial; it's objectively more capable than the 7.3L it replaced, but a few reliability issues have tainted its reputation. The 6.0 is originally derived from the International/Navistar VT365, with a few changes made to repackage it into a pickup and make sure it met newer emissions standards. Some of these changes are what impacted the reliability of the trucks, such as the restrictive EGR system and the complicated variable-geometry turbo. These issues are fixable though, and at the age and mileage these trucks are at, you have to expect some repairs anyway. Your 6.0 turbo may have soot-clogged VGT vanes, but a similar year Cummins or Duramax is likely leaking oil through the turbo. Poor tuning is the cause of most EGR issues; a well-tuned truck will run clean enough to not clog the valve or cooler. Considering how much more expensive the older, slower 7.3 is, the smart money is to buy an undervalued 6.0 and save a little bit of budget for high-quality aftermarket parts with design updates that fix the factory shortcomings.
One of the more common repairs on these trucks is diesel fuel injector replacement. Because these trucks have common-rail injection, where fuel is metered out at each individual injector instead of a centralized injection pump, each injector is more complicated and expensive. As the trucks age, the biggest issue with injectors is their propensity for sticking spool valves. Ford has addressed this with an update to the fuel injection control module (FICM), but if you're still on the original controller, you're your truck wouldn't have seen the fix. This is why a professional diagnosis is worth the money; replacing the control module could fix these injector issues before irreparable damage is done to the injector itself. Like the 7.3L, the injectors themselves can also start leaking, and they have an electronic component that can see wear over time from being in such a heated area under the hood.
When it comes time to replace the injectors on your Power Stroke, the choices can be overwhelming. Different years had some minor differences in the injector design, and there are multiple varieties of each design available; brand new or remanufactured, OEM or aftermarket. The main varieties of PowerStroke injectors are broken down by model and year:
2003-Early 2004 (Produced 9/29/2003 or earlier)
Remanufactured Single Injector – Order Here
Set of 8 Remanufactured Injectors - Order Here
Late 2004-2007 (Produced 9/30/2003 or later)
Remanufactured Single Injector – Order Here
Set of 8 Remanufactured Injectors - Order Here
Fuel Injection Control Module (FICM)
2003-Early 2004 Super Duty and Excursion (Production Date 9/22/2003 or earlier) – Order Here
Late 2004 Super Duty (Production Date 9/22/2003 or later), Late 2004-Early 2005 Excursion (Production Date Between 9/22/2003 and 12/31/2003) – Order Here
2005-2007 Super Duty, Late 2005 Excursion (Production Date 1/1/2005 or later), 2004-2010 E-Series Van – Order Here
We offer both brand new and remanufactured OEM diesel injectors and FICMs for all PowerStroke applications, depending on what you prefer. Our remanufactured components reuse OEM housings, so you can be sure they'll fit perfectly because they've already lived an entire life in a truck much like your own. All wear items and seals are replaced, and the electrical components are all cleaned and tested to ensure perfect contact. For select applications, we also offer brand new OEM injectors, exactly the same as you'd receive from a Ford dealership, or modified high-performance injectors that can flow more fuel, if you have the breathing mods and reliable tune to take advantage of the capability. All our diesel injection components are backed by a one-year, unlimited mileage warranty, with extended warranty options available. We also offer free shipping, plus free return shipping for your core return if you order our remanufactured units.
If you're still unsure about what's best for your vehicle, feel free to contact BuyAutoParts for knowledgeable assistance in getting the best replacement injectors and other diesel parts for your truck. We carry guaranteed exact fit injectors, injection pumps, electronic controllers and more from known brands like Bosch, Alliant and Delphi. All our parts professionals are here and ready to help!