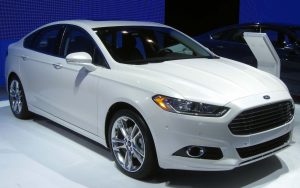 The Fusion is Ford's entry in the formerly-competitive midsize sedan segment, competing against names like the Honda Accord, Toyota Camry and Hyundai Sonata. While all versions of the Fusion seem to be well-regarded and well-reviewed, Ford announced in early 2019 that 2021 would be the final model year for the Fusion, with no replacement planned, as buyers have mostly shifted over to pickup trucks and SUVs, which have a side benefit of being much more profitable for the manufacturers as well.
Like many mainstream domestic vehicles, reliability has been somewhat solid, and the Big 3's habit of sharing components across multiple vehicle lines helps keep parts and repair costs relatively low compared to some of the competition. The first generation Fusion was mostly based on the Mazda 6, back when Ford had an ownership stake in Mazda. The second generation, introduced in 2013, shares Ford's CD4 platform with the larger Taurus, the C-Max minivan and two different Lincoln sedans.
One issue we do see a lot of with the Fusion is electric power steering rack failure. All 2006-2009 Fusions have traditional hydraulic power steering, and from 2010-2012, it was available with either electric or hydraulic systems. Starting with the 2013 redesign, all models have electric power steering. We do sell some hydraulic steering racks for the earlier models, but that's more due to normal wear from the fact that the earliest models are approaching 15 years old.
Electric power steering solves a lot of problems in modern cars. It eliminates the need for a power steering pump, lines and fluid, which saves space under the hood and means one less fluid for the car to start leaking when it gets older. Less weight, and no power draw from the engine's belt drive system means this system usually helps fuel economy too. Manufacturers can set up steering feel and performance exactly how they want, or program in multiple modes; high assist to make the wheel easy to turn at parking lot speeds, then add a bit of extra weight at freeway speeds for better feel and more predictable handling. Having an electric motor on the steering rack also allows the car to steer without driver input, which allows for options like automated parking systems, lane-keep assist, and as soon as it can be implemented safely, fully autonomous driving.
On 2010 through current Ford Fusions, the electric motor and its control unit are the cause of failure most of the time, though just like any steering rack on any car, damage can also be caused by a particularly hard pothole impact, or rust if you live somewhere that salts the roads during winter. One commonly-cited complaint is an electrical connector that becomes loose over time; with power cut to the steering rack, you will lose your assist, making the wheel very hard to turn, and if a loose connector is frequently disconnecting and reconnecting on the fly, this can cause damage to the electrical control unit. This specific issue was the cause of a recall that affected over 400,000 individual cars, including certain 2011-2013 Fusion.
We have seen dealer quotes over $2000 to replace the electric steering rack on a Fusion, but as electric power steering is found on more and more common cars, and as those cars start to age, the aftermarket has stepped up and you no longer have to go to the dealership to get this issue fixed. We offer both brand new and professionally remanufactured steering racks, and while programming is required, many independent shops have access to the software to do that for you. Find your vehicle on the chart below to get a link to the correct steering rack for much less than the dealership would charge:
| | | |
| --- | --- | --- |
| Ford Fusion Fitment | Also Fits | Order Link |
| 2006-2009 w/ 16" Wheels | 2006-2009 Mercury Milan | Order Here! |
| 2006-09 w/ 17" or 18" Wheels | 2006-2009 Lincoln MKZ, Zephyr & Mercury Milan | Order Here! |
| 2010-12 w/ Hydraulic Power | 2010-2012 Lincoln MKZ | Order Here! |
| 2010-12 w/ Electric Power | 2010-2012 Lincoln MKZ | Order Here! |
| 2013-2016 | | Order Here! |
Steering is where our company began over 30 years ago, long before electric steering was a thing, and we have kept up with the times. In addition to rack and pinion assemblies, we also have hydraulic power steering pumps, tie rod ends, steering gearboxes for much older vehicles, and everything else to make your car handle and perform just like new. Every steering rack on our website has a minimum three-year, unlimited mileage warranty, and all Duralo parts have a limited lifetime warranty. Contact us for knowledgeable help getting the right parts to get your vehicle back on the road!