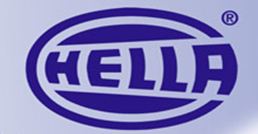 February 25, 2013 - Hella's Job is to Protect You.
Have you ever driven with Hella? How do you know if you have Hella Headlights?
Have you ever been driving down a dimly lit road late at night and wished you could see better? Have you ever been scared to death because your visibility was really poor in a rain storm or you couldn't see well in a blizzard?
Well, you didn't have Hella Headlights.
Hella has been around since 1908 making things brighter and safer for millions around the world. With ever improving discoveries and technology, Hella never lets up. It's never good enough because they want to make it better.
Hella is a qualified expert in lighting for the automotive industry, street lighting, and the marine lighting industry. Having been around for more than 100 years is no small feat. This company has proven itself for many years past and never lets up as it brightens our futures.

With a profound understanding that no light is the perfect answer for every situation or every person, Hella goes to great extremes to make sure there are safer variations available to fit the individual's personal choices. From halogen to Xenon to Bi-Xenon, you will find varying degrees of radiance, reflection, and luminosity. You can even virtually explore the Hella headlight choices and see the effects on bend and corner lighting on their website.
One of the coolest things since peanut butter is their Varilis line. This is the apple pie of the 4th of July. Truly, after seeing this new product one wonders what can they come up with next. But, they'll surely think of something.
Just how great is the Varilis line? Well…listen to this.
Varilis is an AFS (Advanced Frontlighting System). But what does that mean? This intricately engineered light-producing, car-leading, family-protecting headlight technology does some of the work so you don't have to. You can focus on your driving and be comfortable knowing you can see clearer, brighter, and you are safer thanks to Hella.
To explain without being too technical, Varilis are very smart, very adaptable headlights. These headlights are able to adapt to varied situations and visibilities. With onboard sensors designed to pick up on key changes that effect your visibility, Varilis can automatically adjust from one lighting function to another. A combination of five varied beam patterns from one Xenon headlight allows Varilis to consider conditions such weather, environment (highway, country, city), speed, and even bends and corners. Once Varilis detects any of these variants the headlamps adjusts the beams to provide the best visibility possible
Now that's smart!