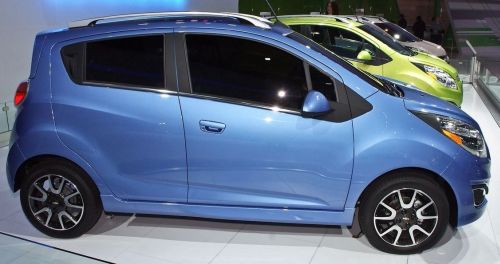 May 23, 2013 - GM just publicized its price tag for their newest electronic vehicle and the price is lower than any experts had predicted.  The new Chevy Spark EV will come with a sticker price starting at $27,495.
Although, the price is almost double the price of a gas powered Chevy Spark, the EV is still one of the cheapest electric cars on the market. Plus, you can start subtracting off the price tag with all the credits you can receive for buying an electric car. $7,500 federal tax credit you get for buying an electronic car, and if you live in California you may be eligible to take off another grand. This brings the car well under $20,000. You can sign up for a lease of $199 a month for 36 months, while putting only $999 down.
Other Electric Model Prices
Prices are for plugin models – Price is before any tax credits
Chevy Volt - $41,000
Toyota Prius - $32,220
Nissan Leaf - $29,650
If you want one of these cheap Chevy Spark EVs you gotta be in California or Oregon.  They are only selling in these two states because the states have a zero-emissions-vehicle mandates.  Which in normal person talk, means if you do not sell electric cars you will get penalized by those states.  So, I guess Chevy isn't really making these to save the environment; they are just making them to avoid being penalized by state governments.  Kudos to the states though.  If the automakers are not going to do it on their own, someone should force them to do it.