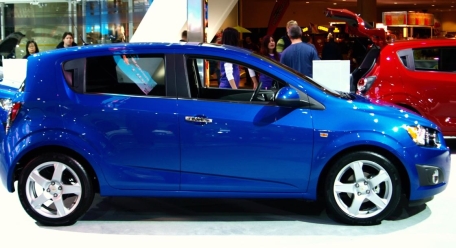 June 14, 2013 - Woody Allen said, "Eighty Percent of success is showing up." Two students in the Los Angeles Unified School District were able to win free Chevy Sonics by showing up 100 percent of the time. To be eligible for these $18,000 cars, all these kids had to do was get perfect attendance for a year. Since only 357 seniors in the Los Angeles area had perfect attendance, their chances were not too bad.
Over the last year LAUSD (Los Angeles Unified School District) gave out monthly awards for attendance. Prizes ranged from bicycles, to Subway sandwiches, to passes to amusement parks. The gifts were donated by local companies.
Obviously, the goal of this program is to get kids in their seats. There is a direct connection between attendance and academic performance. So, the more kids go to school the better the school districts grades will be.
There is also another reason why they are willing to give away free cars for attendance. MONEY! The school district gets approximately $32 every day a student attends school. Which means the school doesn't get that money when a kid is a no show. Due to absences, it is reported that LAUSD lost $156 million dollars. So, giving away two $18,000 cars to try and cut back a loss of $156 million doesn't sound too bad. It also sounds even better after you discover Clear Channel Media donated the cars.
So, free cars to good students donated by a company, what could be wrong with that? Well, critics of this program state that if a company was willing to donate a car to the school district they would probably be willing to donate something different too. California is laying off teachers left and right because of a budget crisis. Why not tell the companies to keep their cars and donate money to keep some teachers, or pay for school supplies?
And of course you get the old timer arguments of, "back in my day all we got was a gold star on our report cards for perfect attendance and these kids get a car," or "And we wonder why the youth are now so entitled. They get freaking cars for something they should do anyways."
Also, this deal seems to not account for kids whom are actually sick, 'Sorry Timmy, you can't win a car because you got pink-eye. Try again next year." Furthermore, it seems to encourage more kids to come to school while sick and this causes diseases to spread.
If this program ends up with more kids coming to school and helping better educate the kids in America than it sounds good to me. However, the kids that come to school to just win prizes are most likely not the type that will try hard anyway. They are just there to raise their hand and say "Here!" and hope to win something. Being present is one thing. Paying attention and doing homework is another.