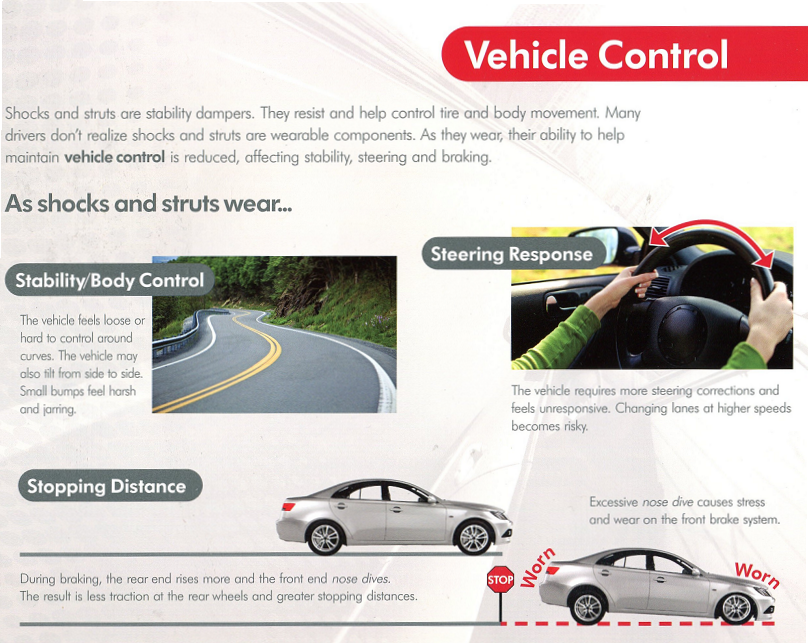 Shocks and struts are stability dampers. They keep your wheels from bouncing off the road, which allows for greater performance. The firmer the shock or strut, the more the wheel will grip the road and allow you to fully utilize the power of the engine even if difficult driving conditions. Shocks and struts can wear down over time, even if you only drive on paved roads. It is important to know the signs of worn shocks because over time you will lose your ability to maintain control of the vehicle, stability will be reduced and steering and braking will become more difficult. It is also helpful to know the signs of worn shocks and struts if you are planning to purchase a used car.
Stability and Control – If the shocks or struts are worn the vehicle will feel loose and be hard to control when you are taking turns. You may also feel the body of the vehicle tilt from side to side. If you are driving over small bumps, or other relatively mild road conditions and the ride is harsh and uncomfortable then the shocks are probably worn down.
Steering Response – If you constantly have to make minor steering adjustments to keep the car on the road, that is a telltale sign that your shocks are worn down. Slower steering response makes changing lanes at higher speeds much more risky.
Stopping Distance – Worn shocks dramatically increase the distance it takes to bring your car to a complete stop. You can tell that the shocks are worn because the rear end will rise and the nose of the car will dive during breaking. This means that there is excessive play in your shocks as they have begun to wear down from years of use. When your car takes a nosedive during braking it puts an immense amount of pressure on your brakes.
Buy Auto Parts carries KYB shocks because they are a premium aftermarket product. When your shocks go bad you want to put a KYB replacement in your car because KYB shocks compensate for the years of wear and tear in your suspension system. KYB shocks and struts are built 5% firmer than standard shocks and struts to give your car the same feel that it had when you first drove it off the lot. If you want the stability, steering response, and standard stopping distance restored to your car then we recommend that you put a KYB replacement shock or strut in your car today. You can find KYB products at guaranteed lowest prices at BuyAutoParts.com!
For more information on shocks and struts visit our Repair Suspension page in our How To Section. Click Here