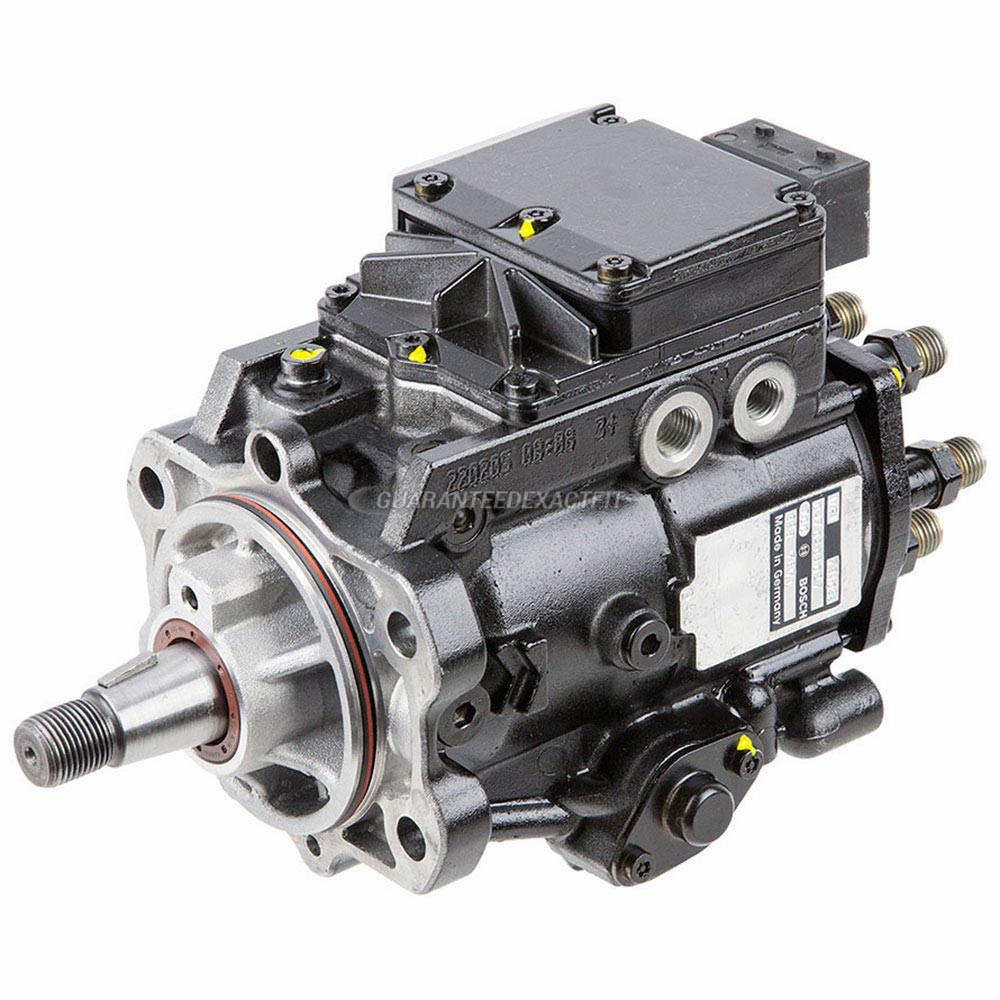 The Dodge Ram Cummins is the main reason that diesel pickups are so popular today. The first Ram Cummins was released for the 1989 model year, technically before the D/W pickups were even called the Ram. The Cummins 6BT engine in the Ram was miles ahead of the Detroit Diesel 6.2 in the GM pickups or the Ford IDI, featuring direct injection and a turbocharger. The 1994 redesign was the first attempt by one of the big three to make their pickup actually stylish, rather than simple and cheap. Buyers really responded to the big-rig inspired styling; sales went from 95k units in 1993 to 410k in 1995.
While all Ram Cummins from 1989-2007 use the Cummins 5.9, there are still variances with the turbochargers and the fueling systems. 1989-1993 trucks use a Bosch VE injection pump, and 1994-1998 12v trucks use a P7100. Both of these are fairly reliable at stock power levels, if a little bit limiting and inefficient. Halfway through the 1998 model year, Dodge switched from the Cummins 6BT to the ISB. This engine used the same basic bottom end, but has a 24-valve head rather than the earlier 12-valve for better breathing and higher compression, and uses a Bosch VP44 rotary injection pump for more precise fuel control. The 24v trucks make more power and produce fewer emissions than the earlier 12v but aren't quite as reliable.
The VP44 diesel injections pump often starts showing issues around 150k miles. Diesel specialists who have a lot of experience with the ISB believe the issue is the in-tank diesel lift pump wearing out prematurely, or providing inadequate pressure. The pressure issue is exacerbated if your truck is modified, since it will require more fuel, which the stock lift pump can have trouble supplying. The injection pump is lubricated by the diesel fuel running through it, so running the pump dry can do lots of internal damage. You should, at minimum, replace the lift pump along with the injection pump for better long-term reliability, or maybe even replace it earlier if you want to be proactive about it. If your truck is modified, an aftermarket high-pressure lift pump is highly recommended, but even with that issue sorted, the VP44 can still be problematic. We have a brand new, genuine Delphi (same as you'd get from a Dodge dealer) in-tank diesel lift pump available here.
When (not if) it's time to replace your VP44, another issue is the variety of replacement options. There are three IPVR model numbers, which are commonly shortened to 15X, 16X and 17X:
IPVR15X: This is for models with an automatic transmission or the 5-speed manual trans. See your options for a replacement 15X pump here. We also have a Bosch-remanufactured 15X with new OEM lift pump (both parts identical to what you'd get from a Dodge dealership) available here.
IPVR16X: This is for models with the 6-speed manual transmission and 235 hp rating. See your options for a replacement 16X pump here. We also have a Bosch-authorized remanufactured 16X with new OEM lift pump available here.
IPVR17X: This is for HO models with the 6-speed manual and 245 hp. You can identify if your truck is a 245 hp model by looking at the valve cover; it would have a "High Output" badge. The 17X pump works as an upgrade for 15X and 16X models in terms of performance, but not necessarily longevity. Because this swap is so common, if you purchase a 17X pump with a core deposit, you would NOT get your deposit back if you return a 15X or 16X core. See your options for a replacement 17X pump here. We also have a remanufactured 17X with new OEM lift pump available here.
Bosch isn't making these pumps anymore, so most replacements you'll find are remanufactured. There are multiple levels of remans; independent, ones remanufactured by Bosch themselves (which is what you're likely to get from a dealership), or independent remans using Bosch tools, parts, and authorized by Bosch, which is a good middle ground.
If you're still unsure about what's best for your vehicle, feel free to contact BuyAutoParts for knowledgeable assistance in getting the best replacement diesel parts for your vehicle. We carry guaranteed exact fit turbos, injectors, fuel pumps and more from known brands like Bosch, Holset, Delphi, Stigan and more. All our parts professionals are here and ready to help!