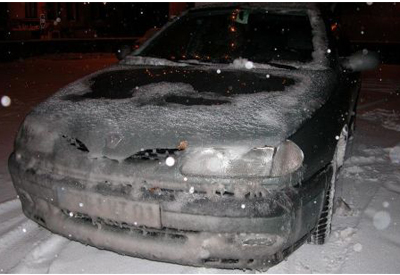 In most parts of the US, the weather is starting to get much colder. The hot days of summer are gone and depending on where you are exactly, it might already be snowing (the Upper Midwest just had a snowstorm a couple of weeks ago). Regardless, when the temperatures drop, there are things you can do to your car to help it out during the really cold months of the year. Trust me, it's better to be prepared than to be stuck on the road during a snow storm. So take a look at our list and don't be left out in the snow:
Engine Coolant
In North America, a 50/50 mixture of water and antifreeze coolant is recommended for year-round driving. This, of course, is dependent on your specific vehicle and you should consult your owner's manual to confirm what the mixture should be in your coolant. Also make sure you inspect the coolant hoses for leaks or signs of wear and tear. Clean around the connections with a rag or a paper towel to ensure there are no leaks. Leaks can sneak up on you and can leave you in a nightmare situation.
Lights and Wipers
During the colder months of the year, it rains and snows a lot throughout the country. Visibility on the road is very important. This is why you should be sure your windshield wipers are working the way they should. Wipers have a lot tougher work to do in extreme weather conditions so if you haven't replaced yours in a while, be safe and get yourself some good quality windshield wipers, especially if you live somewhere where it rains or snows often in the winter. Washer fluid should be replaced with a more winter friendly solution that includes a deicer agent, which will work better in the winter and you will not have to worry the fluid freezing or becoming useless.
Headlights are vital to visibility during those dark and hazy days and nights. If the headlight shell is worn and causing the headlight strength to weaken, you might want to think about replacing it or getting the plastic casing professionally cleaned. You will be surprised how much better your lights work when you buy a new headlight assembly or get them cleaned professionally.
Battery
Electricity and cold weather do not mix. Your car's battery needs to be tested before you head into the winter months; you can do so with an easy battery test that simply consists of starting your car while your lights are on, if your lights go brighter right when your engine starts and then they dim, you should conduct more elaborate battery tests. These elaborate battery tests will be for getting a voltage reading. If your tests return a voltage below 12.4V then you will either need a recharge or a new battery. Your car's battery has to work harder when it is cold. So if it is not at the condition to work that hard, you will be left out in the cold which is not fun and can get expensive.
Tires
Think about getting winter tires. I am not going to demand it be mandatory you go out and spend a bunch of money on winter tires, but seriously think about investing in them. The colder your region is, the more you should consider this. Icy, wet, and snowy roads can all make driving around on the road a scary experience, especially if your tires are not meant to handle those conditions or are worn to a point where these conditions will destroy your tires. If you do not need winter tires, be sure to conduct a monthly tire pressure test and visually inspect the tread on the tires regularly. Keep in mind that for every 10 degree (f) drop in temperature your tires lose about 1 PSI of pressure. This results in a loss of traction which would cause a driver to lose control of the vehicle much easier.
Emergency Kit
If you do not already have an emergency kit in your car, go out and get one. Some essentials to include in an emergency kit include a flashlight, flares, a radio, extra windshield wiper fluid, a brush or ice scraper, extra coolant and a first aid kit. Also keeping warm clothes, a blanket, gloves can come in handy during emergency situations. Kim, our automotive blogger, recently wrote an entry about essentials you need to keep in your car, check out her suggestions: Things To Always Keep In Your Car.
Got any more tips? Feel free to comment and share below: