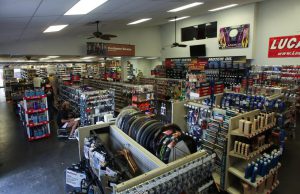 This month's BuyAutoParts customer spotlight is Jack's Auto Parts & Machine in Lake Havasu City, Arizona. Located right by the tourist center of this vacation destination town, Jack's is an independently-owned Carquest franchise that's been locally owned and operated for 45 years, while still offering the entire catalog of a national chain, plus everything we offer as well!
In addition to their huge inventory and years of expertise in the field, Jack's also has a machine shop attached. Operated by David Navin, with over 30 years of experience on his own, they specialize in rebuilding cylinder heads and resurfacing flywheels and brake rotors. The parts business and machine shop service both retail customers and local shops.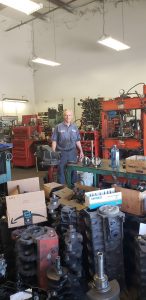 Jack's sponsors many local community events, most notably the local Havasu 95 Speedway, one of a dwindling number of local ovals for low-budget amateur racing that keeps the hobby alive, as well as sponsoring individual cars as well. The track mostly sees midget racers and stock cars, and is surrounded by hiking and biking trails, baseball diamonds, rodeo grounds and a motocross park.
Jack's can be reached Monday through Saturday, 7:30 am to 6 pm, at (928) 855-2100. If you're in the area and need anything for your vehicle, make this locally-owned shop with decades of experience that supports the community your first stop! For anything else, or if you'd like your shop to be highlighted next month, contact us and we'll do what we can to help!