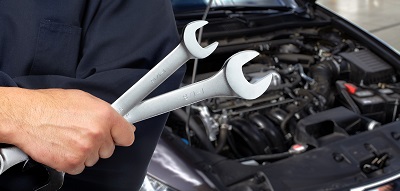 With Labor Day approaching, thoughts naturally turn toward backyard BBQs, the end of summer, insanely expensive car repair labor rates, another school year for the kids and autumn, which is suddenly right around the bend.
OK, so Labor Day isn't really about the ultra-pricy rates we pay for car repair labor – but now is a great time to review some things you might now know about the subject.
Expensive – But HOW Expensive? Are Most Mechanics Committing Highway Robbery?
Here's one thing you probably already know about auto repair labor rates: they're expensive. Most of the time, too expensive. But the price is one of those "necessary evils" we all put up with. After all, when your water pump decides to quit working, you're stuck with few options:
A) Try to fix it yourself. Many people have neither the time nor the mechanical inclination to even begin such a project. (Shhh…don't tell that to those DIY mechanics out there.)
B) Do nothing. Hey, maybe your co-worker won't mind picking you up every day. As you can see, this "option" is a "non-option." We're pretty sure Darren in accounting will get sick and tired of driving you to and from the office every day of the week.
C) Pony up the <insert ridiculous $ amount here> to your local mechanic and get back on the road.
D) Do none of the above and instead get out that old 10-speed bike.
Most folks inevitably end up choosing C. And after we've left the mechanic's shop, scratching our heads over how a $750 repair bill consisted of nearly half that amount in labor alone, we're left with a lighter wallet – and sometimes a livid, how-can-I-avoid-this-the-next-time attitude.
Location, Location, Location – Variables Help Determine a Mechanic's Labor Rate
Real estate prices are set, in large part, based on where the property is located. A 2-bedroom penthouse apartment in Jackson, Mississippi might rent for $500 a month, while the same setup might cost ten times as much in Manhattan. Same goes for a mechanic's labor rate. A quiet, rural, out-of-the-way shop could charge $50 per hour, while an urban repair center could approach $90 per hour.
Generally speaking, most repair shops charge around $80 per hour for labor (depending on location), while dealerships are around $95-$100 per hour. So consider another myth confirmed – yes, the dealership really is more expensive than independent mechanics.
The Flat Rate: Scheme, or Straight-Up Honesty?
Many people are wary of a mechanic's "flat-rate" labor charge. This is where different sections of your car's repair are itemized, line by line, and the total time is multiplied by a flat rate. The American Automobile Association's own research has shown that mechanics use the flat rate to simplify the process, and customers also benefit in the end. So no scheme here, everybody – just a method to make the mechanic's bookkeeping processes a bit easier.
Remember, the Hourly Rate's Not All About Labor
It's useful to keep in mind something about those labor rates. That hourly figure has some built-in mechanisms to keep the mechanic's business profitable. Not necessarily to rip you off, but to simply stay ahead of inflation, ever-increasing shop costs and other expenses. Think about it this way: if your local mechanic was simply overcharging labor costs to fleece customers, he wouldn't be in business for long. It makes sense, on a purely financial level, to offer the most competitive labor rates possible.
Given all this information, you probably learned a thing or two about auto repair labor rates. And even though some of those urban legends were shattered, that doesn't mean you have to pay the asking price. Try negotiating. See if there's any wiggle room with labor rates. And another tactic? Do the work yourself. With BuyAutoParts.com, you'll enjoy a double-dip in significant savings: no labor costs and drastically reduced parts prices, thanks to our quality, affordable inventory.
We also have valuable online tools and resources to help with your DIY auto repair project. For any questions about our parts, give our auto component consultants a call at (888) 907-7225.
Thanks for reading the BuyAutoParts.com blog!
Written By Dara Greaney