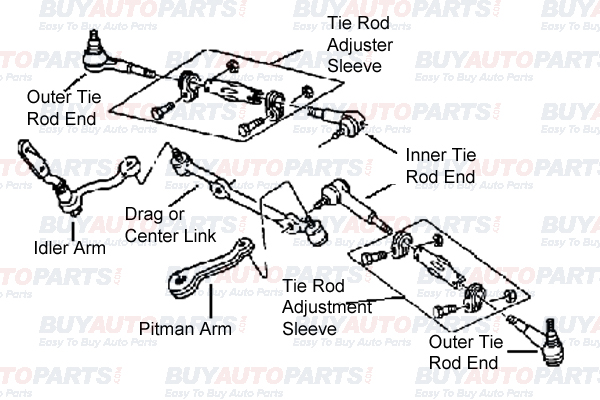 The steering system functions to move the automobile's wheels in response to the movement of the steering wheel. The diagram above depicts the basic components of a mechanical steering system. It includes the Pitman arm, idler arm, tie rods and center/drag link.
Pitman Arm: The Pitman arm connects the steering box, attached to the bottom of the steering shaft, and the center/drag link. The Pitman arm converts the radial motion of the steering column or shaft into the linear motion that turns the automobile's wheels. When the steering wheel is turned, the worm gear at the bottom of the steering shaft turns a set of teeth. This induces a gear to actuate the Pitman arm, which in turn causes the steering linkage to turn the wheels.
Idler Arm: The idler arm maintains the steering gear opposite the Pitman arm. The center/drag link and the tie rods are connected to the idler arm. When the steering wheel is turned, the Pitman arm gets activated which in turn moves the idler arm in a parallel rotating motion. This series of actions ultimately turns the vehicle's wheels.
Tie Rods and tie rod ends: The tie rods keep the wheel straight, with minimal steering, and also handle the tensile loads of steering. The inner tie rod end lies close to the center line of the automobile. It transfers the movement of the steering rack to the outer tie rod end. The inner and outer tie rod ends are basically in-line and right-angled ball joints, respectively.
Drag/Center Link: One end of the drag link is connected to the Pitman arm and other end is attached to the idler arm. It transmits the movement of the Pitman arm to the idler arm. The length of the drag link affects the steering ratio.
Get Genuine Automotive Parts at Unbeatable Prices here!
Buy Auto Parts stocks a wide range of OEM replacement and aftermarket parts for every make and model. To find the part for your car, simply tell us your car's year, make and model. Your order will be shipped from the warehouse closest to your location. We offer free shipping for purchases over $99 in the continental United States. Our products have been throughly-tested to meet or exceed industry standards. You can reach us on our support line at or leave us an email at [email protected], if you need help in choosing your part. Please feel free to leave us an online review. We value your feedback!