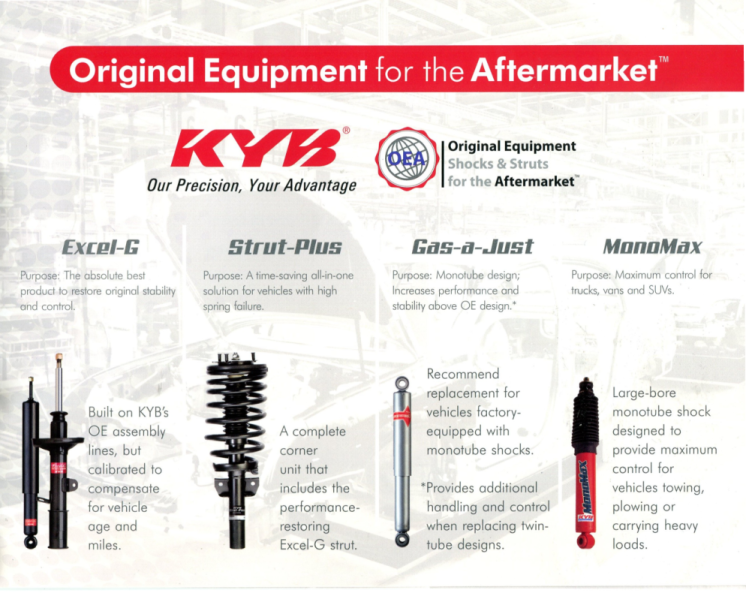 In our next segment discussing KYB shocks and struts, I want to go a little more in depth about the individual products that KYB makes for the aftermarket. Each KYB shock or strut is designed for a very specific function and it is important to know what each one does so that you know what to look for when you go to replace the shocks in your vehicle.
The most common replacement shock is the KYB Excel-G. This is a twin tube gas shock absorber, with a KYB patented valving system. The pressurized nitrogen gas accounts for riding comfort while simultaneously reducing the aeration or foaming the commonly occurs in shock absorbers. Twin tube shocks are standard in about 85% of passenger cars on the road today. These shocks are the absolute best to restore original stability and control because they are build 5% firmer than a standard replacement. This extra 5% compensates for the age of your suspension system and gives your car the stability and control that it had when it was new. The Excel-G is built on the OE assembly lines but calibrated to compensate for a vehicle's age and mileage.
The KYB Strut-Plus is a complete corner unit with an Excel-G strut. It includes the strut, coil spring, bearing plate, boot kit & bumper, and spring seat & isolators. The Strut Plus is designed to be a time-saving all-in-one solution for vehicles with highs spring failure. It easier to install than a traditional strut and no spring compressor is required.
If you are looking to switch from a twin tube to a monotube strut or your monotube shocks just need to be replaced then the KYB Gas-a-Just is the shock for you. The Gas-a-Just is going to be a 30% firmer shock than any twin tube shock, which means you get a firmer ride with increased performance. The Gas-a-Just completely eliminates foaming caused by the mixing of gas and oil. When gas and oil mix in your shock it causes foaming that can greatly reduce the absorption ability and can also shorten the lifespan of the shock. If you are looking to get a little more out of your suspension system, or you need to replace your monotube shocks or struts, Buy Auto Parts recommends the KYB Gas-a-Just.
Do you use your truck for work? Or maybe you're just a weekend warrior that uses your truck, van, or SUV for hauling, towing, and off-roading? In either case, you want a shock that will give you the performance your vehicle needs to handle the toughest driving conditions. The KYB MonoMax is the solution for maximum control. It is a stronger, more durable shock designed for hauling, towing, or plowing. The MonoMax is the best performer on harsh road conditions and is perfect for diesel trucks.
Buy Auto Parts carries KYB because they are the leader is twin and monotube technology. KYB makes a superior product which is why 1 in 5 new cars produced in the world have a KYB shock installed at the time of production. You can find any of these KYB shocks or struts at wholesale prices in the Buy Auto Parts catalog. If you can't find what you are looking for, feel free to give us a call at 1-888-907-7225.