An AC Compressor is the heart of an AC system that induces a high pressure in the refrigerant and sends it to the AC condenser. It is basically a pump driven by the engine. Sanden AC compressor units are some of the most reliable AC compressors on the market and understanding the way to identify your AC compressor is vital.
How to determine your Sanden AC compressor number and types?
1. Model Conversions
TYPE
R12
R134a
5 Cylinder
SD-505
SD7B10/SD5H09
SD-507
SD5H11
SD-508
SD5H14
SD-510
SD7H15HD and SD5H14HD
7 Cylinder
SDB-706
SD7B10
SD-708
SD7H13
SD-709
SD7H15
SDB-709
SD7B15
R-12 Sanden AC compressors use a specific numbering system: This kind of AC compressors use "SD" to signify the Sanden name. Then, the units have a 3 digit code such as 709 for the R-12 Sanden AC compressors.
The Sanden compressors that are designated for the R-134 freon use a slightly different code than the R-12 Sanden compressors. The code is easy to determine and follow a code like SD7H15HD, which can be broken down into its parts. The SD stands for Sanden, the maker of this air conditioning compressor. The 7 is the number of cylinders in the Sanden compressor, H stands for the port location (H: if it is on the head and B: if it is on the block), the 15 is the displacement in cubic centimeters. The HD stands for heavy duty and there can also be SHD for sealed heavy duty clutch.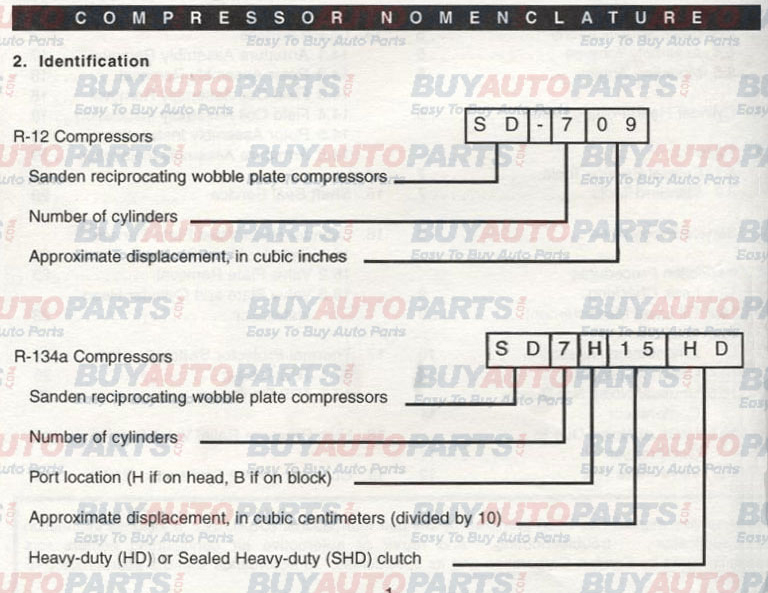 Place an Order for AC compressors at Buy Auto Parts!
At Buy Auto Parts, we stock AC compressors for every car make and model. We have genuine OEM replacements and premium aftermarket parts. All our car parts are thoroughly tested and come with an industry-leading warranty. To view the parts that fit your vehicle, select the right year, make and model of your car on our online catalog. At Buy Auto Parts, you will find high-quality AC compressors at unbeatable prices, and free shipping over $99 in the continental United States. If you have any questions about our car parts, call our toll-free support line or email us at [email protected].