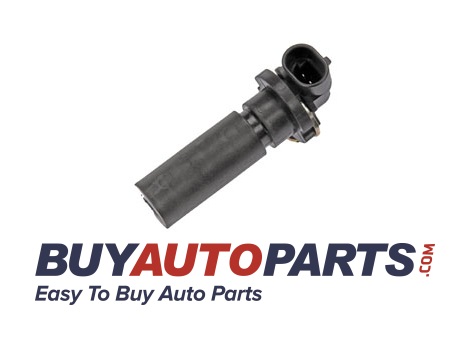 The crankshaft position sensor, otherwise called the engine speed sensor (ESS), monitors the rotation of the crankshaft. It can be identified as a thin, long, black cord, located next to the crankshaft. Based on the reading of the crankshaft position sensor, the Engine Control Unit (ECU) determines which cylinder should be fired with respect to the crankshaft's current position. The ESS helps in determining the engine's revolutions per minute (RPM). The RPM value is needed to select the appropriate transmission gear. A malfunctioning crankshaft sensor will induce a wide range of acceleration and engine-related problems. The following are some of the common symptoms of a bad crankshaft sensor.
Acceleration Problems: If the crankshaft sensor fails, it will not send the right information to your car's computer. The engine operating system will not be able to synchronize the engine pistons together, resulting in poor acceleration and the inability to maintain speed.
Engine Misfire/Sputter: When the information relayed by the sensor is incorrect, it results in an engine misfire. Incorrect readings will also affect fuel injection and cause your engine to sputter.
Lowered Fuel Efficiency: Since a bad sensor affects fuel injection, the engine will not receive the proper amount of fuel at the right time, resulting in lower fuel efficiency. Have your car checked by a licensed mechanic if you find that your car is consuming more fuel than normal.
Engine Stall: Crankshaft sensor problems can also make your engine stall at low speeds and the car will have difficulty while starting. In extreme cases of a failed sensor, the engine will completely fail to start.
Check Engine Light: As always, any problem associated with the engine will make the Check Engine light glow, a defective crankshaft sensor will also cause the Check Engine light to glow.
Other Symptoms: Other engine problems such as rough idling, backfiring and loss of power are also common indications of a faulty crankshaft sensor.
Buy Auto Parts Stocks a Line of Camshaft Sensors!
Buy Auto Parts will get you the right fit for your vehicle if you select your automobile's right year, make and model. Coming with an industry-leading warranty, our parts are available at unbeatable prices. We also offer free shipping for purchases over $99. If you have trouble in locating your part, our support team is at hand to help you: call us at or leave us an email at [email protected]. You can browse through our wide range of throughly-tested OEM replacement and aftermarket parts for every make and model. We value your feedback on our services! Please feel free to leave us an online review.
More Parts from BuyAutoParts.com
Popular AC Parts:
2001 Chevrolet Tahoe A/C Compressor
2000 Volkswagen Golf A/C Compressor
2005 Jaguar X Type A/C Compressor
2004 Mitsubishi Endeavor A/C Compressor
2002 Jeep Liberty A/C Compressor
---
Popular Brake Parts:
---
Popular Suspension Parts:
1998 Mercedes Benz ML230 Shock
---
Popular Steering Parts:
2007 Mercedes Benz ML63 AMG Power Steering Rack
2001 Cadillac Deville Power Steering Rack
2003 Mercedes Benz SL500 Power Steering Pump
---
Popular Turbos:
1998 Volkswagen Passat Turbocharger
1996 GMC Pick-up Truck Turbocharger