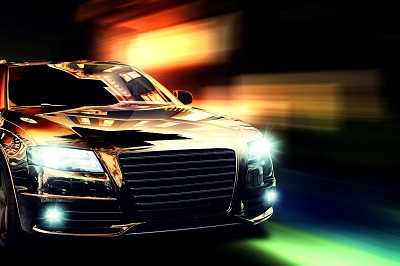 It is more than likely, you've seen Xenon lights before—they're typically the ones that seem bright enough to light the road for two cars! Though not new, Xenon lights, (also known as High Intensity Discharge Lights), have become increasingly common as advanced technology has decreased the cost of production. Despite increasing popularity and a much brighter luminance, HID lights still play second fiddle to their more ubiquitous cousin, the halogen light.
Xenon is what is called a noble gas. Meaning that Xenon is one of six gases that, under standardized conditions, are odorless, colorless and possess a low level of chemical reactivity. This makes them a great medium for generating light. The first solid-state laser was invented in 1960 and used a Xenon flash lamp; this paved the way for the technology to work its way into our favorite vehicles.
The first car manufacturer to implement or offer Xenon lights was BMW in the 1991 7 Series. As with many higher end and advanced technologies, the Xenon light slowly worked its way from a feature found exclusively in luxury models to an option offered by more affordable car manufacturers. The migration to High Intensity Discharge was a slow one, and even now over 20 years since its introduction, the Xenon light is still a fairly exclusive option, despite its ability to produce more light than the halogen variety. [Related Post: Hella Headlights]
Compared to halogen and LED varieties, Xenon lights provide a balance between light production and heat generation. In addition to providing more luminance, thusly improving visibility, Xenon lights also have a longer estimated life span, approximately 2000 hours—compare this to the average halogen light which only provides about 450 to 1000 hours of life.
Despite the pros of Xenon lights, there are a few draw backs as well. Beyond the glare produced by Xenon lights, the issue of cost is also a valid concern. In addition to being more expensive to create, HID lights must also feature a headlamp cleansing system and automatic beam level control. All of which are designed to reduce glare, while increasing the cost of manufacturing these lights.
Xenon lights have come a long way from that laboratory back in 1960, and, despite a continued dominance of halogen and new competition from LED technology, don't seem to be slowing down in terms of growth. If you're in the market for Xenon lights, be sure to browse the Buy Auto Parts catalog using our part selector to ensure you parts fit perfectly!
Written by: Dara Greaney