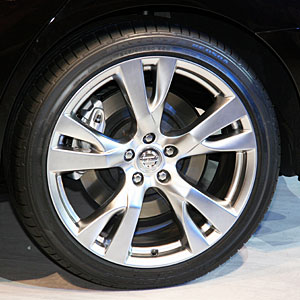 We all know how important your tires are to your vehicle, that's why the automotive tire industry is such a gargantuan industry. Everyone eventually needs tires, and tires are not something we would all consider a cheap commodity. Unfortunately, most people know little to nothing about maintaining the condition of your tires so you get the most out of your investment. I've put together a list of things you should absolutely know about tires and maintaining your tires so that you are never left on the side of the road with a flat ever again!
Reasons why your tires fail
The best place to start is where most people get it wrong.
Buying old tires: All tires come with the date the tire was produced, and many times people don't look for this. Tires do have a shelf life, and their efficiency decreases the longer they sit around.  A good rule of thumb to follow is to never buy a tire in which the production date of the tire is more than 5 years old. Regardless of them being brand new, a tire sitting on a shelf for too long is not going to last as long as a newer tire.
Your tires are overinflated or underinflated: Tire pressure matters. It's a running joke amongst mechanics that customers never put air in their tires and always want mechanics to do so for them, despite it being a simple task.
If your tires are underinflated, your tires will run hot meaning that the tread and sidewalls of the tire flex too much. This degrades the rubber and fabric construction of your tire, and what's scary is that this problem is not easily detectable by scanning your tires with your eyes.  You will need a tire gauge to measure tire pressure.
If your tires are overinflated, your tires will have poor grip and the tread will wear in the center much earlier than it should. At least know you should put air in your tires, but you definitely find out what the recommended amount of pressure your tire needs and use your tire gauge to hit that every time you fill them up.
Your tires have become seriously deteriorated or damaged: This sucks. Because most likely you've done everything right but something outside of your control is beating up your precious tires.
Deterioration of your tires is usually the cause of exposure to Ozone sources like electrical equipment or motors, road chemicals and ultraviolet light. Certain aftermarket protectants can help with exposure to any of these, but the simplest piece of advice here is to be careful with where you park your car and what liquids your tires become exposed to.
Damaged tires usually occur thanks to contact with a foreign object, and usually contact is made at high speeds on the highway. Remember how the person who taught you how to drive told you to always watch out for potholes, and to avoid them at all costs? This is partly why. To avoid damaging your tires, watch out for foreign objects and potholes on the road, and never go into them at high speeds, this could prove fatal to older, worn tires.
Maintain the right tire pressure
As you already know from the last section, inaccurate tire pressure is a big reason why you fail. If you get it wrong, you can cause poor MPG, uneven tire wear or possibly even a blown out tire.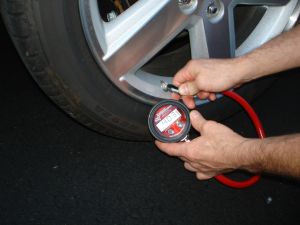 How to check your tire pressure: 
Check your tire pressure when you have not driven any more than 1.25 miles. We get it; sometimes you just can't remember to fill up your tires until after a long commute but tires that have been in use for more than this tend to get hot and therefore the correct air pressure of the tires cannot be read.
Every vehicle has its own standard tire pressure guide it can be found in your owner's manual. This is where you will find what the correct amount of pressure your air pressure gauge needs to read to know your tires are filling up to the right amount.
Find your valve stem (small black thing sticking out of your tire) and unscrew the cap. Word for the wise, place the cap in a safe place because it is way too easy to lose these and then if you are like me you will get really OCD and hate the fact that only 3 of your 4 tires have valve stem caps.
Press the air pressure gauge into your tire's valve stem.
If the air pressure is too low, fill it up!
If the air pressure is too high, use the air pressure gauge to bend the center piece of the valve stem and audibly release air from the tire.
If you are a master tire pressure maintainer and the pressure is perfect, you're good to go! Screw on the valve stem cap and go on with your day.
By Juan Cuellar
Image Sources: http://ow.ly/vHNL5 | http://ow.ly/vHNTI |http://ow.ly/vHNWz