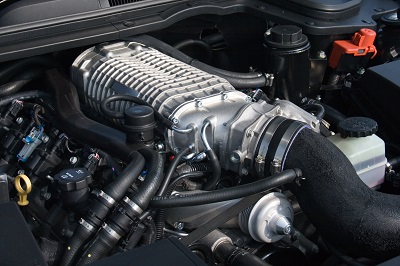 Not satisfied with your engine's performance? A supercharger offers a quick fix. Designed to supply increased air pressure (or, sometimes, air density) to an engine, superchargers achieve increased power through optimum fuel use with each engine cycle. Some stock engines aren't designed for pulse-pounding speed – actually, the majority aren't – so you'll have to consider alternatives if you want the best possible power output.
Many people attempt to increase engine horsepower with a host of alternative methods. Some of the most popular include catalytic converter upgrades, cold air intake installations, computer module retrofits, tire size tweaks (shorter tires can increase acceleration, albeit slightly) and some other minor modifications. However, there's one sure-fire way to give your auto a major boost in horsepower, and that's with a supercharger.
Here are 5 superchargers that provide a premium power surge, and are also noteworthy for their quality workmanship and relatively hassle-free installation:
Sprintex Brand 254D1001 SN Performance Supercharger
Designed to fit 7 different model years of the peppy Mini Cooper (2002-2008), this Sprintex supercharger features the S5-210 screw compressor, with class-leading torque characteristics. Plus, you can install the 254D1001 SN supercharger with just bolts. There's no need to cut or modify the frame!
Sprintex Brand 257D1001 SN Performance Supercharger 
Do you own a 2005 or 2006 4.0L Jeep Wrangler? Check out the Sprintex 257D1001 SN supercharger. This fully integrated supercharger kit is ready to go right out of the box, and offers a noticeable horsepower boost. Even at lower RPMs, you'll experience greater torque and, consequently, better power output.
Vortech 40-20019 Performance Supercharger 
Ford Mustang owners are well-acquainted with superchargers; the model has remained one of the most popular cars to experiment with. This Vortech supercharger is for the 2011-2012 5.0L Ford Mustang GT. With a V-3 Si compressor, fuel rail spacers, replacement components and more, this is one of the premier Mustang supercharger kits you'll find on the market today.
Sprintex Brand 251D1001 SN Performance Supercharger
Typical Sprintex quality and ease of installation make the 251D1001 SN a great choice for Jeep Rubicon and Jeep Wrangler engine upgrades. It fits easily under the Jeep stock hood – no need for expensive blower or hood components.
Mercedes-Benz 40-10018 Supercharger
This supercharger integrates effortlessly with many different Mercedes models from 1998-2004. Perhaps the most popular model for the 40-10018 supercharger is the C230 from 1999-2000 (without electronic clutch). Also increases power for the SLK230, all models from 2001-2004.
The handful of superchargers above are just some of the many you'll find at BuyAutoParts.com. Along with this superior selection, our knowledgeable and friendly staff are here to answer your questions about supercharger kits. We've got expert advice dialed in – just call (888) 907-7225 today to speak with a BAP supercharger specialist.
Along with our superchargers, Buy Auto Parts also offers a garage-full of goods for your car. All of our parts (including superchargers) are backed by an industry-leading 12-month warranty. We deal directly with the manufacturer, so you'll always enjoy a streamlined, hassle-free shopping experience at BuyAutoParts.com.
Thanks for reading the BAP blog. If there's a particular supercharger you'd like to see in our store, or if you have any feedback on this blog, visit our contact page to drop a line. We'd love to hear from you!
Written by Dara Greaney