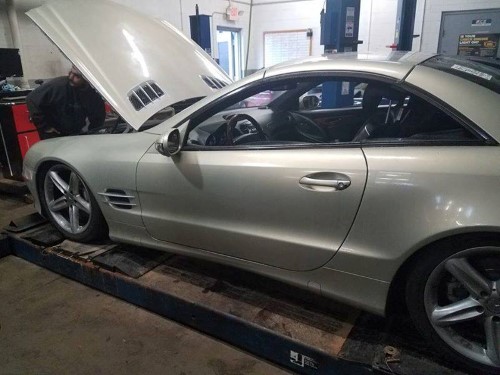 Driving a Mercedes equipped with AirMatic suspension should be a comfortable and soothing experience. After all, the smooth ride of a fine German luxury car is legendary! But as these vehicles age, the active air suspension system develops malfunctions that are almost always accompanied by hefty repair bills that that will often hinder the satisfaction you get from driving a Mercedes-Benz. But when you're facing the expense of repairing a Mercedes AirMatic suspension shop BuyAutoParts.com first and save yourself time and money. We have all of the parts you need, in stock and at a great price.
The Mercedes AirMatic system was equipped on E, S, ML, GL, R, SL, and CL-class vehicles starting at the 2000 model year and continuing to present. Typically most common failures occur when the strut or the airbag at one of the wheels starts leaking and when the air compressor fails, but these problems are not dependent and often occur simultaneously.
Mercedes AirMatic Strut or Air Spring Failure:
When one of the struts or air springs fails it will cause the affected corner to sink while the vehicle is parked or cause an uneven ride height while you're driving. This greatly affects the handling and stability of the vehicle and can be a dangerous situation on the road. Replacement of these struts is just like a standard strut job with the added air connection at the top and without the need for a coil spring compressor. BuyAutoParts.com stocks every replacement Mercedes AirMatic strut and Mercedes AirMatic air spring at prices significantly lower than the dealer.
Mercedes AirMatic Compressor Failure:
The air compressor can fail in a few different ways. We see a lot of compressors where the air pump is seized in vehicles that don't get driven often and we see a lot of burned out compressor motors in vehicles that are. In either case, the compressor won't run at all leaving the air springs without pressure. We've also seen times when the internal seals inside the compressor failed, causing the pump to generate very little pressure but otherwise appear to be operating normally.
A failed strut can also cause a burned-out motor If the leak is big enough. Since the system can't build adequate pressure it can cause the suspension compressor to run constantly while you're driving. Since the compressor was only designed to run periodically to adjust ride-height, level your Mercedes, or maintain system pressure under normal conditions, a longer duty cycle can overwork the unit, causing significant wear and decreasing the part's lifespan, or even burning it out entirely. Fortunately, fitting a replacement Mercedes AirMatic suspension compressor is easy to DIY. We even package compressors with some of our AirMatic kits!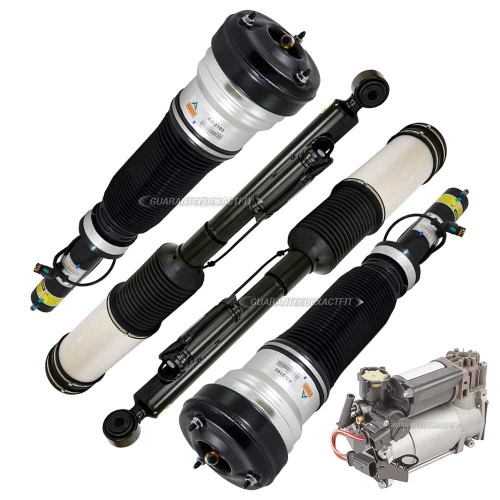 Mercedes AirMatic Replacement Strut and Compressor Kit
As we noted, a malfunctioning AirMatic suspension is usually easy to spot when the suspension sags at a corner or on a whole side. But a sagging suspension should also be accompanied by a dash warning light and a message that will read "Air Suspension Failure, Visit Workshop" or even "STOP VEHICLE TOO LOW" in red. The warning can show up before the suspension starts to sag as the system will detect an electronic failure or a small leak well before the ride height is affected.
Some of the vehicles that came with Mercedes AirMatic suspension could also be equipped with the premium ABC (Active Body Control) suspension as an option, particularly on Coupes, Convertibles, and on very high-end sedans like the S-class. The ABC system is hydraulic instead of air-actuated and you'll need different parts to repair this system. The easiest way to find out if your Mercedes was equipped with either the ABC or AirMatic suspension is to look for an "ABC Sport" button in the center console. You can also inspect the top of the strut mounts under the hood and look for an air supply line which indicates an AirMatic suspension. If you see these warnings, you are likely due for service.
Some Mercedes E and S-class models were also available with 4Matic all-wheel drive systems. Typically, the front struts will be different for the 4Matic vehicle vs. the rear-wheel drive version. It's easy to check for 4Matic by just looking for the badge on the back of the vehicle. Additionally, some ML, GL, and R-class vehicles were equipped with an Active Damping System (ADS) which requires a different part number than those equipped with the standard AirMatic suspension. If your vehicle has a "Sport/Comfort" or "S/C" button on the center console, it is equipped with ADS. We offer a complete range of replacement parts for all models.
Use the links above to find the right AirMatic strut, spring, or compressor for your Mercedes and restore the comfortable, luxurious ride it had when it came off the dealer lot– but without the dealer price tag. If you need help with selecting the right part for your car or truck, get in touch with one of our on-staff parts pros by phone, email, or through our convenient Live Chat on every page. We're here to help you get it done and save money in the process! Want to learn more about the Mercedes-Benz airmatic vs. ABC Suspension? Read on!