Agent 007 isn't your typical car enthusiast. For one, he travels a lot more than most. The most beautiful women are always hanging around Mr. Bond and he always delivers the perfect throwaway line after saving the world, deadpan humor and all. He really is the most interesting man in the world (sorry, beer commercial guy).
But back to Bond's garage for a minute – he drives only the best cars. No family sedans for this guy – only prestige will do. And his tastes are somewhat unique; remember, James Bond (from Ian Fleming's original character) cut his teeth during the Second World War in the British military, and spent his prime secret agent years in the 1960s. So, you'll notice some distinctly British, classical theme throughout his choice of cars.
Since Dr. No in 1962, James Bond has impressed moviegoers with some of the most fabulous automobiles ever created. Here are our picks for the top ten Bond cars ever that will have even the most discerning gearheads drooling.
#1 – Aston Martin DB5
From the iconic film Goldfinger, the DB5 truly introduced the James Bond we know and love. This classic British sports car had a few extras, including oil slick shooters and a passenger ejector seat. They just don't make cars like they used to!
#2 – BMW 750iL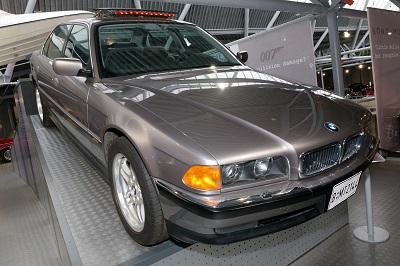 Bond always had a soft spot for German cars, and this one, from Tomorrow Never Dies, ranks as one of the most powerful 007 rides ever. You have to love a car that has as many cylinders – twelve – as sunroof rockets.
#3 – Toyota 2000GT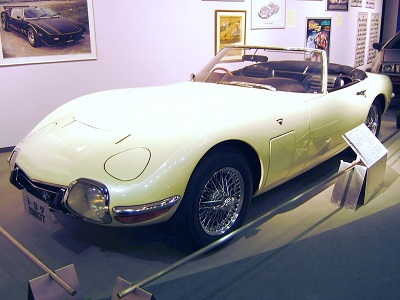 From You Only Live Twice, here's a car that most people would love to Only Drive Once. Sean Connery's second-most famous auto (after the DB5 in Goldfinger) was designed for smaller Japanese men, not Sean Connery's strapping Scottish frame. Engineers made it work, though.
#4 – Lotus Esprit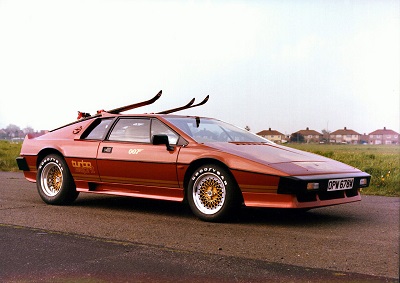 This turbo is the most famous car of Roger Moore's tenure. Classic 80s style defines this car from For Your Eyes Only, which also included a set of skis. The Esprit Turbo was certainly the most snow-capable Bond car in history.
#5 – Aston Martin DB S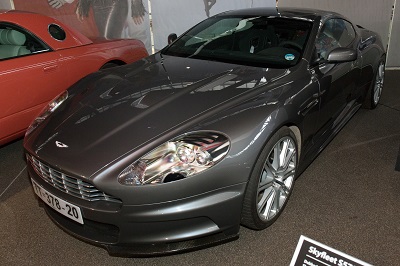 007's Daniel Craig version prefers this car, his choice ride in two movies. Sure, it's more advanced and a lot more powerful than the DB5, but we still like the classic car a little better.
#6 – Ford Mustang Mach 1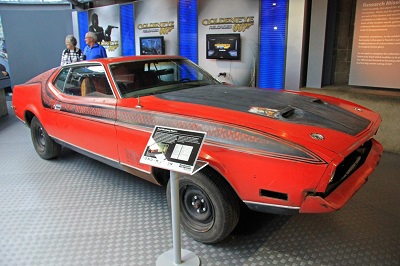 Defining the automobile excess of the late 70s, this was Sean Connery's last car – and still one of the most famous 007 rides ever. A full-throttle V8, classic style and Jill St. John in the passenger seat makes the Mach 1 a car for the ages.
#7 – Sunbeam Alpine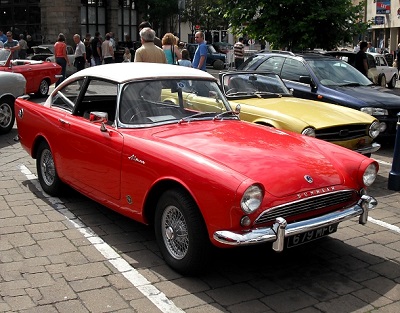 Colorful and classic, this cherry red is the first Bond car, from Dr. No. This set the standard for all subsequent James Bond cars. With a modest 1.6 liter engine, the Sunbeam was most likely the least-powerful 007 car ever.
#8 – Rolls-Royce Silver Cloud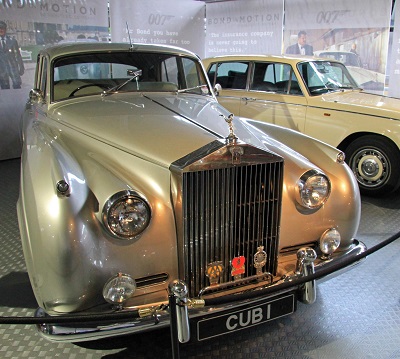 Timothy Dalton was only around for 2 Bond films, but his car from A View to a Kill is worth remembering. The Silver Cloud had some late-80s touches and classic British style, and is regarded by many 007 movie experts as the last great British postwar car.
#9 – AMC Hornet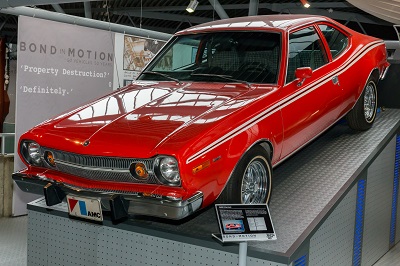 The Hornet isn't known so much for how it looked, but rather what it did during The Man with the Golden Gun. Roger Moore pulled off one of the most memorable stunts in 007 history, doing a roller-coaster midair twist, but without the track. This was the quintessential stunt that defined Moore's tenure in the role of James Bond.
#10 – Jaguar XKR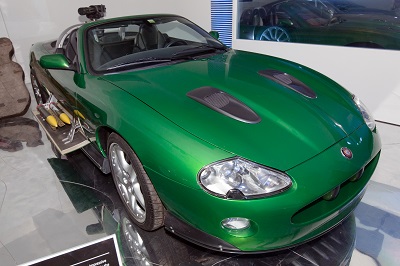 It looked sporty, but actually killed for sport. Even more lethal than Connery's DB5, this car boasted missiles, mortar round and even a Gatling gun. Without this car in Die Another Day, Bond probably doesn't come close to completing his mission.
Even if you're not driving an Aston Martin all over Europe on the latest mission to save the world, you still need high-quality auto parts for your car. BuyAutoParts.com is simply the best place to find what you're looking for. Our auto parts specialists are available at (888) 907-7225, and you can also use our live chat feature (advanced & techy, something 007 would definitely appreciate) on the BAP contact page.
What do you think about our choice of Bond cars? Did one get shortchanged? Let us know – we always love hearing from our readers.
Written by Dara Greaney