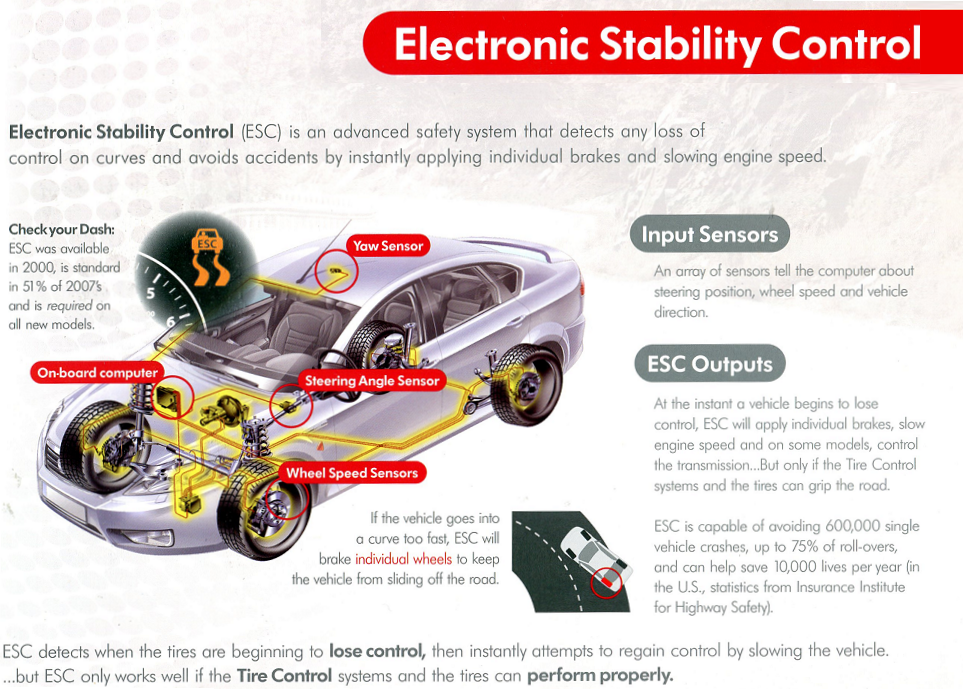 Electronic Stability Control is an advanced safety system that detects any loss of control on curves and avoids accidents by instantly applying individual brakes and slowing engine speed. Depending on type of vehicle you drive you may know it as DSC – Dynamic Stability Control, or ABC – Active Body Control. Electronic Stability Control was available as an added feature in 2000 vehicles, came in 50% of 2007s, and is now required in all new vehicles. What does ESC actually do? If you are driving your car on a windy road and you take one of the turns too fast, ESC will brake an individual wheel to keep your car from losing control and spinning off the road. ESC implements a number of different sensors that allow it to detect when the driver has lost control. If the ESC detects that the vehicle has lost control, it immediately reduces engine speed, applies the brakes, and controls the transmission.
ESC makes cars safer. The Insurance Institute for Highway Safety estimates that ESC can save 10,000 lives per year by avoiding 600,000 single vehicle crashes and 75% of roll-overs. That is why the government has mandated that ESC become a required feature on all new cars after 2012.
Why is ESC important for buying shocks? There are a lot of shocks and struts being made out there that are not compatible with ESC systems. If you put a new shock or strut on your car that is not compatible with ESC, the car will not be drivable. It is important to know whether or not the shocks that you are putting on your vehicle are compatible with your car. All KYB shocks are compatible with ESC. It makes sense that all KYB shocks work with ESC because all new cars are required to have ESC.KYB has made buying replacement shocks and struts simple for the consumer. You don't have to ask—if you see the KYB name then you know that the KYB shocks are going to work. Buy Auto Parts is proud to carry KYB shocks because it contributes to our mission as a company—to make it easy for you to buy auto parts.