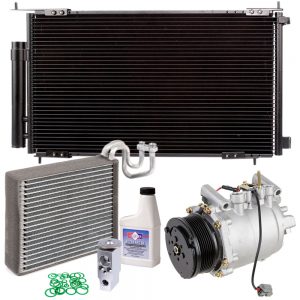 AC is a huge part of our business, and our best-selling AC component would definitely be the compressor. For many people, it may be the only AC part they actually know of, and it's certainly most people's first suspect when the vents stop blowing cold air. But A/C is a complex system with a lot of parts, so it's important to verify what exactly your vehicle needs. You can order just the items you need, but we also offer complete A/C kits that include everything required to do the job as completely as possible and ensure your vehicle won't need an AC service ever again.
The centerpiece of your AC system is the compressor and clutch assembly itself. Pretty much anywhere you order a compressor from, the clutch will be included, and vice versa. This ensures a lower repair cost and better long-term reliability (see more about this topic here). The compressor is powered by the pulley, which is driven by the vehicle's accessory drive belt(s). The AC button on your car's dash actually turns the clutch on and off; when your AC is off, the clutch is disengaged, reducing load on your engine. The compressor assembly is most often replaced due to internal wear or clutch failure. Internal wear would result in inadequate system pressure as measured at the low side port, and clutch wear would result in inactivity when the compressor is turned on from inside the vehicle. Leaks can also develop over time, either from seams in the casing or from the line ports.
Whenever you replace your AC compressor or do any other work on the AC system that requires opening up the fluid lines, it is crucial to replace the drier. Also known as the receiver or accumulator, the drier acts as a filter on you're A/C system. As the name implies, it collects any water in the system, preventing it from freezing in one of the lines and creating a blockage. It also captures any debris running through your AC lines and keeps it from ending up in the fins of the condenser or evaporator, or doing damage to the internals of your compressor. If your compressor is worn-out enough to require replacement, there's a good chance that it's deposited some shrapnel into the fluid lines, and if you do not replace the drier along with the compressor, that fluid can re-enter the system and damage your new compressor. Because of this issue, we require that the drier be replaced along with the compressor to ensure your one year, unlimited mileage warranty.
The expansion device controls pressure within your AC lines, and while it's not often that it goes out on its own, it's more likely to do so after the compressor does, since it can get jammed up with debris, and isn't very easy to flush. There are multiple versions of this part; an expansion valve that attaches to the evaporator, an expansion block that connects two lines, or an orifice tube that's inside one of the liquid lines. Either way, it's much easier to replace this at the same time as the compressor than it is shortly after, and it's a relatively inexpensive part. We include it in many of our AC kits as a form of easy repair insurance.
See All AC Expansion Devices Here
If you've already ordered your compressor, but upon further consideration, decide to replace the drier and expansion valve as well, we offer vehicle-specific kits that include both those parts, plus a bottle of AC oil for the new compressor and a vehicle-specific O-ring set. While your new compressor may have some oil inside to protect the part during shipping and the time it spends sitting on our shelf, we strongly advise draining that and adding fresh oil prior to installation; since some compressors fit multiple vehicles, this is the best way to ensure you have the correct type and amount of oil for your specific vehicle. The new O-ring kit prevents leaks from hose connections, which are always a risk if you reuse the old seals. Just like the expansion valve, it's cheap and easy insurance to guarantee a successful repair.
See All AC Component Kits Here
The A/C condenser, also known as the AC radiator because of its appearance, location and function, cools the A/C refrigerant in your lines. It's mounted right alongside the coolant radiator, behind the grill. You can sometimes reuse the original condenser when you replace the compressor, provided you can flush it thoroughly, but if your vehicle has a lot of miles, that could be tough. As random bugs and rock pebbles pass through your radiator grill, the fins of the condenser can get bent and damaged over time, impeding the ability for it to be flushed. Some condensers also have the drier attached to them, meaning the entire condenser needs to be replaced in order to change the drier.
The evaporator is where all the work of your AC system actually turns into cold air blowing into your interior. Located right alongside the heater core, buried deep within the dash, replacing the evaporator is no easy job, which is why it's important to choose a quality aftermarket replacement.
Your vehicle will have three A/C hoses; a discharge line that goes from the compressor to the condenser, a liquid line that goes from the condenser and drier to the evaporator, and a suction line that returns from the evaporator back to the compressor. Because these are rubber parts, they can get dry and cracked with age, causing leaks.
The best way to ensure a complete repair and long-term reliability is to order a complete A/C kit for your vehicle. Our most popular kit is the 5-piece option, which includes the compressor with clutch, drier, expansion valve, oil and O-rings; this contains everything required to do your job right the first time. We also have kits with condensers, hoses and more available, as well as options for OEM compressors, or a simple compressor and drier matching pair.
If you're still not sure what exactly your car needs, feel free to contact BuyAutoParts for knowledgeable assistance in getting the best AC parts for your vehicle. We have the largest full line of AC components from known brands like Denso, Delphi, Sanden, Valeo, Tama/Seltec and more. Our parts professionals are ready to help!