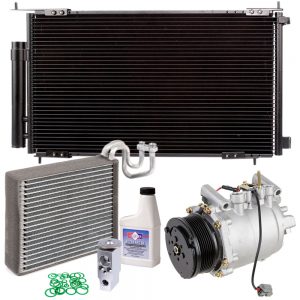 Our unbeatable warranty has been a cornerstone of BuyAutoParts for a long time. If you have any issues with any item you buy from us during the warranty period, let us know and we can get a free replacement shipped same day! To further demonstrate our confidence in the items we sell, we have recently extended the warranties on two of our core product lines.
To start, we have doubled the warranty on all AC compressor kits with 5 or more components, including the drier, oil and O-rings, from one year to two. The drier acts as a filter on your AC system, collecting debris and moisture into one dessicant element to prevent said debris from causing damage to AC components, and preventing moisture from freezing within your AC lines and creating a blockage. Every compressor we sell will have some oil inside to protect the part during shipping and the time it spends on our shelf, but you would need to drain it and add fresh oil prior to installation. The O-ring seals are also rarely reusable after the AC lines are disconnected. All three of these items are essential to ensuring the long-term reliability of your A/C system. In addition to the substantial savings of buying one of our complete AC kits over ordering each component individually, these kits also ensure a more complete install, eliminating the reason for most warranty claims we see. Our goal is for the extended warranty, along with the kit discount, to convince more customers that there is more required to replace your AC compressor than just the A/C compressor.
We have also tripled the warranty on all steering gearboxes from one year to three years. This ensures that BuyAutoParts becomes your number one source for a product line that many other retailers have started to abandon. These days, most "normal" cars on the road will have rack and pinion steering, something we are already the market leader in. The only vehicles still on the road that still use steering gearboxes are newer heavy-duty trucks, or older cars that are becoming classics. Both of these require the highest quality available, either to keep your truck working, or to ensure you get the best possible replacement option for your "hobby" car so you can keep enjoying it. All of our remanufactured gearboxes are professionally reconditioned in the USA with a thorough cleaning and inspection, followed by all new bearings & seals, re-machining or replacing gears as needed, chasing the port threads to ensure a reliable seal, then testing and adjusting the box on the bench. We also have quick-ratio options available for a faster steering response, heavier-duty options ideal for trucks with larger off-road tires, and brand new aftermarket gearboxes with no core deposit required, all still backed by the same three year, unlimited mileage warranty.
Our full warranty policy and all the corresponding legalese is outlined here. We also offer extended warranty options at checkout for every item on our website, for a little extra peace of mind. Contact us for knowledgeable assistance getting anything you need, complete with an unbeatable warranty, fast shipping and professional service!