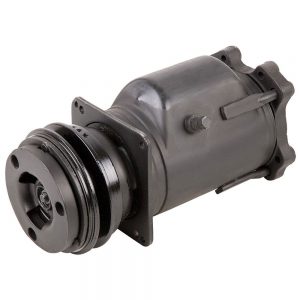 While we pride ourselves on our extensive AC catalog and ability to source some hard-to-find components for older vehicles, some vehicles are so obscure that finding a reliable source for parts can be challenging. We carry brand new aftermarket compressors for most mainstream applications, but we fill in holes in our catalog with quality remanufactured parts. This is either when a vehicle is so new that we have not yet been able to develop an aftermarket replacement yet, or if it's so old and rare that, frankly, there isn't enough of a market to justify the development expense. We also have them available for most of the rest of our catalog as well, as a backup option in case we ever run out of stock on brand new parts.
Remanufactured compressors unfortunately don't have the best reputation, and frankly, a lot of that has to do with some of our competition. You may be able to find a "remanufactured" compressor under $100 on eBay, but if you press them on the details, you'll find that the majority of these are pulled from junkyard vehicles, cleaned up, tested, and shipped out with a 90 day warranty, conveniently the exact amount of time you have to leave eBay feedback or open a PayPal case.
Even though remanufactured compressors are a relatively small part of our A/C catalog, we still put a little extra effort into them. We start with used OEM compressors and clean them up to the point where they look brand new. Next, we disassemble the unit and throw away all the used seals, O-rings and gaskets. All internals are thoroughly cleaned, inspected and re-machined or replaced as needed. Any bearings showing any amount of wear are replaced with new OE-quality items. Once all internal parts are verified to be in good shape, we'll reassemble the compressor with all new OEM seals and gaskets and fill it with oil for testing purposes, as well as to protect the item during shipping and the time it spends sitting on our shelf. You will need to drain this out and add fresh oil prior to installation.
After this is complete, we will test the compressor to check for leaks and ensure clutch engagement and pressure output are the same as a brand-new OEM part. In addition to getting an item that performs like new, you also have the knowledge that the item will fit (because it's already been on a vehicle for thousands of miles), and if you have an antique or collectable vehicle, it helps maintain the factory originality as well.
Because of the steps we take and our experience in the game, you can trust remanufactured items from BuyAutoParts. All our items are remanufactured in the United States and backed by the same warranty as a brand-new part. If we don't have the correct part listed on our site, contact BuyAutoParts and we can locate it for you. Our parts professionals are here and ready to help!