Get the parts you need today. Pay later with

. Learn more

Sanden AC Compressor Service Operations Clutch and Shaft Seal
This page explains the service operations in the clutch and shaft seal of a Sanden AC Compressor.
Service Operations Clutch
Armature Assembly Installation
1. Install the shaft key with pliers.
2. Install the clutch shims.
NOTE: The clutch air-gap is determined by the thickness of the shim. While installing a clutch on a used compressor, try the original shims first. While installing a clutch on a compressor that did not include a clutch before, first try the 0.04", 0.02", and 0.004" (1.0, 0.5, 0.1 mm) shims.
3. Align the keyway in the armature assembly to the shaft key. Using a driver and hammer, or an arbor press, drive the armature assembly down over the shaft until it bottoms on the shims. A distinct sound change will be heard if you are using a hammer to drive the armature assembly.
4. Replace the retaining nut and torque to the requisite specification:
1/2-20: 20-25 ft·lb (27-34 N·m, 270-350 kg·cm)
M8: 11-15 ft·lb (15-21 N·m, 150-210 kgf·cm)
5. Check the air-gap with a feeler gauge. The specification is 0.016" - 0.031" (0.4 - 0.8mm). If the gap is not even around the clutch, gently tap down at the high spots. If the overall gap is out of spec, remove the armature assembly and change the shims as necessary.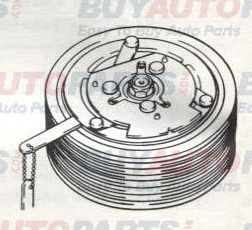 6. Replace the armature dust cover (if used) and torque 3 or 6 bolts to the specifications mentioned below:
3 - 1/4-20 bolts (SD-5):
2-4 ft•Ib (2-5 N•rn, 25-50 kgf•cm)
6 - M5 bolts (SD-7): 5-8 ft•Ib
(7-11 N•rn, 70-110 kgf•cm)
Note: Over-torquing SD508/SH14 dust cover bolts will cause the air-gap to become out-of-spec.
Service Operations - Shaft Seal
Replacement of Lip Type Shaft Seal (SD5H14, SD7B10, SD7H13, SD7H15)
NOTE: A lip seal assembly and felt ring must never be reused. Always replace these components.
You can find a detailed description on this specific topic in this link: Sanden AC Compressor Service Operations Shaft.
If you are looking for some other repair or install procedures related to the Sanden Compressor, you can refer to this link.
About Sanden
Sanden is one of the renowned manufacturers of AC compressors across the world. Known for manufacturing top-quality AC compressors, the brand's parts are employed by many vehicle manufacturers today. BuyAutoParts.com is known to provide reliable and durable auto parts to its customers worldwide and therefore, stocks a wide selection of Sanden parts in its catalog. A Sanden compressor will exceed your expectations and provide an efficient cooling performance in your car. You can buy a Sanden Compressor at the lowest prices by clicking here.
Why buying a quality AC Compressor is important
A properly functioning air-conditioning system keeps the passenger compartment cool by circulating cool air. Without an AC in your vehicle, especially during summer, your driving experience will be stuffy and uncomfortable. The AC system includes the compressor, condenser and evaporator. The AC compressor compresses the refrigerant and this is the first step for any AC cycle to start. Only when the compressor pumps the refrigerant at the right pressure, the remaining components in the AC loop will function up to their optimum. Therefore, any problem with the compressor will degrade the entire performance of your AC system.
We hope you found this information on Sanden AC compressors informative and helpful. For any enquiries while purchasing auto parts in our site, or for any additional technical information, you can contact us on our toll-free number or send us an e-mail. We will put one of our automotive experts in touch with you to help you out with your difficulties. You can get to know about our professionals by clicking here.
"How To" Home | BuyAutoParts Home