Turbochargers are some of the coolest parts inside of cars. They increase power. They make an awesome sound. There is a movie starring a snail and also an American Gladiator named after them. I think we can all agree that it doesn't get much cooler than American Gladiators. The only thing better than having a turbocharged car, is having a twin-turbocharged car.
Yes, turbos are great but we must also realize that these performance enhancers have a dark side. And what drives these parts to the dark side? It is not Darth Vader. The answer is, bad installation or improper driving.
If the proper steps are not followed when installing a turbo than it can cause damage to your car and put a huge dent in your wallet. Installing a turbocharger is not a simple job. It is much more difficult than most common installations, such as an alternator, air filter or timing belt. It takes a skilled technician to install a turbocharger correctly.
Here are the top turbocharging installation mistakes.
Oil
            Most turbocharger failures are due to oil issues. Oil is the lifeblood of a turbocharger. A turbocharger needs to be properly lubricated with oil or it will shut down. Anytime you replace an old turbocharger you must also replace the oil feed line, the filter and the oil itself. The most common causes of oil starvation are a faulty oil pump, blocked oil pickup, kinked or bent oil feed line, low oil level, and sludge build up.
Contamination
           Contamination can be caused by carbon build up or debris getting into the system when it is opened up to be worked on. Carbon buildup inside of the oil feed line cannot be flushed out. This is another reason why it is required by most auto parts dealers that you replace your oil feed line.
Foreign Object Damage
            It is pretty obvious why debris in the system is an issue. You don't want any foreign items flying into your turbocharger propeller rotating at 100,000 RPMs. Unless it's a potato and you are looking to make some French fries. Foreign objects can enter the turbo either in the turbine or the compressor side. This type of damage is easy to diagnose as you will see propeller damage. Some common causes of foreign object damage are an old damaged air filter, damaged or cracked air intake, and a faulty EGR valve. Make sure to check all of these things when installing your turbocharger.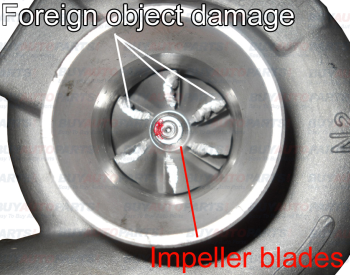 Here are the top turbocharging driving mistakes
Not Letting the Car Cool Down
           The oil feed line is near the extremely hot engine. The temperature of the oil feed line can get up to 1,200 degrees. If you shut off your engine abruptly the turbocharger will still be hot. Everything around the turbo continues to heat up. The oil feed line is the closest component to this turbo fireball. The oil reaches its boiling point and then burns, creating carbon build up. We have already learned how harmful carbon buildup can be. Due to this, it is recommend you let your turbocharged car cool down before turning off the engine completely. There are different theories out there but it is commonly recommended to let it sit idle for approximately two minutes.
Turbocharging your Turbocharger
           People are always going to look for ways to go faster. This leads to people messing with boost settings, adding racing upgrades, chip tuning and so on. Then after they make these adjustments they push their turbo to the limit. This can increase the normal 100,000 RPMs to over 240,000 RPMs. Turbos are not built to spin this fast. This leads to thrust assembly failure or a compressor burst. Watch the video below to see a compressor burst.
I told you there was a dark side.
Written by: Dara Greaney