How To Buy A Steering Gearbox
---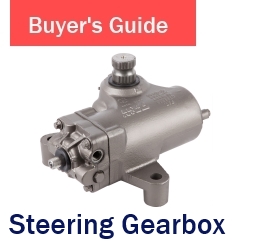 An essential piece of the steering system for older vehicles and larger, heavy-duty trucks; if you need a new gearbox then you will need it as soon as possible. Unfortunately for the traditional consumer a replacement steering gearbox has been an expensive repair including labor and parts costs. This is no longer the case as you are no longer restricted to dealership and shop pricing and can save hundreds on your part.
This buyer's guide will take you through the process of how to buy a steering gearbox and get you back on the road in the most cost and time efficient way possible.
What is a Steering Gearbox?
A steering gearbox is a very important part of the steering system in the vehicles this part is found in. The function of a gearbox is to transfer the rotational input from the steering wheel into the directional movement of the wheels. The gearboxes input shaft attaches to the steering column; the box transfers the inputs of the driver into the gears which then react to move the tires in the desired direction. With the advancements in automotive technology, a steering gearbox is not needed in many modern vehicles but the part is found in many older cars and larger, heavy-duty trucks. A gearbox was traditionally used in situations where the weight of the vehicle was too much for a rack and pinion to handle.  Please visit this page for more information: What is a Steering Gearbox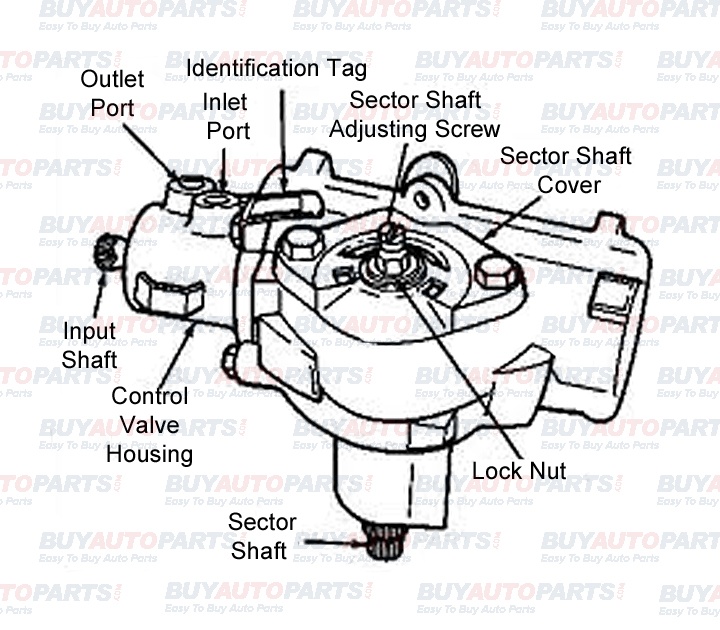 Reasons You Need a New Gearbox
There are two big indicators you need a new gearbox. The first is if your current box is leaking; typically leaks are seen in a gearbox from the seals in the pitman arm or from the input shaft. Please see diagram above for the location of these, but in layman's terms it can either leak from the top or the bottom of the gearbox. A gearbox typically leaks when you are turning the steering wheel. The next indicator is if you hear a noise coming directly from the steering gearbox. Once again, a gearbox making noise when you turn the steering wheel right or left means you will need a new gearbox. Regardless of the amount of certainty you have of these indicators, we recommend having your vehicle diagnosed by an automotive professional.
Important Information Needed
The first key piece of information is going to be the current application (year, make and model) of the vehicle your gearbox is in. You will also need to distinguish between manual and power steering in your vehicle. In certain situations, vehicle steering systems have been customized and a different gearbox is needed than what was originally installed. In these cases part numbers or information directly off the gearbox will help us get you the correct part. Many models also have different gearbox options within the same model year and you will need part numbers off your gearbox in these situations as well. Please give our sales team a call for further assistance in these situations: 1-888-875-0023

Please see diagram below for where you can find numbers on your gearbox: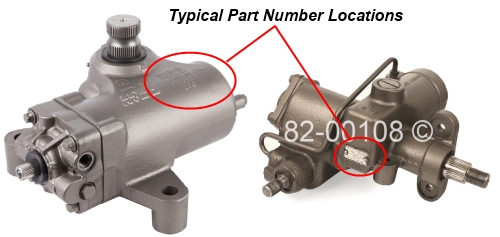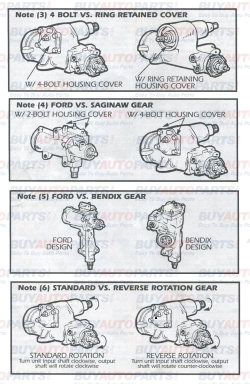 Types of Gearboxes
Bolt vs. Ring Retained Cover – This refers to what is used to hold the housing cover in place, 4 bolts or a snap ring.
Ford vs. Saginaw - Ford boxes will use a 2 bolt housing cover and Saginaw will use the 4 bolt cover
Ford vs. Bendix - The differences in these 2 boxes can be seen in illustration (5)
Standard vs. Reverse Rotation - This refers to the relationship of the input shaft to the output shaft
What is a Core Deposit?
On many steering gearboxes you will see an additional core deposit charge when purchasing your Gearbox. A core deposit is a refundable deposit you are paying up-front to ensure we get your old re-buildable part back to the remanufacturer. Remanufacturers are able to sell parts cheaper if they are able to get the core (your old part) back to rebuild, this is why a core deposit charge exists. The cost of your part if there was no core rebuild program would be what you are paying with the core deposit, only you would not have the chance to get some money back.

Labor and Part Costs
The average cost of a steering gearbox is around $200. The actual price of what it will cost you will vary depending on your year, make and model and what part condition you choose to purchase. Labor costs vary; you will have to check with your local certified mechanic in order to determine exactly how much the repair will cost. We recommend checking with multiple mechanics to make sure you are getting a fair price. For more information about labor and part costs, please click HERE.
Check out our shipping and warranty policies.
Frequently Asked Questions
1. Are there any other parts I should buy with my gearbox?
Typically, the gearbox will be the only piece you need to buy from us for a repair. If you are looking to upgrade to a high performance gearbox you will want to look into purchasing a steering pump. However, every situation is different and our american auto parts experts are here to help, just give us a call at 1-888-875-0023.

2. How do I save money purchasing my gearbox?
The simplest answer to this question is to not buy this part from the dealership or your local shop. The cost of the part will be much higher if you do this due to markups. The labor is most likely a service you will need from your mechanic so do not cut ties with them completely. Instead, ask them to provide you with all the part numbers you need and tell them you found a way to make car repairs more affordable. Take those numbers and either gives us a call or purchase the part online.

3. What if my core is not re-buildable?
In most cases, your core will be re-buildable and you will get your core deposit back. The only cases where we will not refund the core deposit would be if the core is visibly damaged, the core is incomplete or if the wrong core is returned. You also must return your core within 90 days of purchase for a full core refund.

4. How long does it take to receive my core refund?
We guarantee all cores will be refunded within two week of receiving the core.

5. I need my part fast, how long will it take to get to me, and how much does shipping cost?
We ship all parts over $99 free of charge for our customers in the continental United States. If you choose standard ground shipping (free option) and are located within the continental United States it may take 1-5 business days depending on your location. Feel free to call our team and ask them about shipping times to your specific location. We also have expedited shipping options which will cost you more. We can ship anywhere in the world if you are an international customer, select international shipping at checkout or call one of our representatives to find out how much it will cost.
Sales: 1-888-875-0023
Customer Service: 1-800-241-3197
5. I need additional help purchasing or installing my Steering Gearbox
We have a full team of American Based Auto Parts Experts waiting to help you, give us a call and we will be happy to help go over how to buy an Steering Gearbox!
Sales: 1-888-907-7225
Customer Service: 1-800-241-3197
 By Juan Cuellar