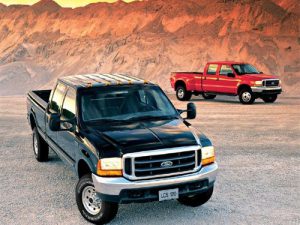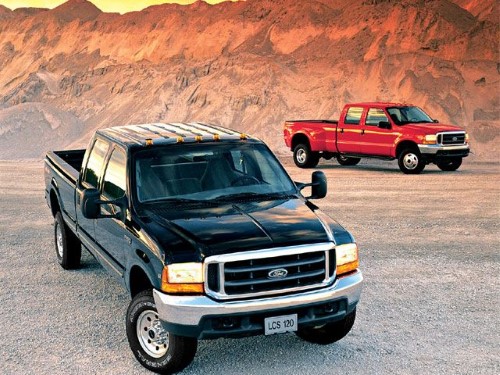 The Ford 7.3L PowerStroke diesel engine has legendary reliability, but since these trucks are around 20 years old and most of them have 200,000 miles or more, a few repair bills here and there are to be expected. One of the most common repairs for a 7.3L is turbo replacement. The turbo isn't designed to be a wear item, but the compressor wheel spins at a high RPM and is put under a heavy load when you use the truck for the kinds of work it was designed for. All PowerStroke 7.3L diesel engines have a Garett GTP38 turbo, but there are slight variations between different models. The first step is to find the turbo model you need, and then find out which option for that model works best for you. The main varieties of PowerStroke turbo are broken down by model and year:
1994-1997 "Old Body Style" trucks
The 7.3L PowerStroke diesel in these trucks was offered at the same time as the older 7.3L IDI diesel, but despite having the same displacement, they do not share any parts at all, so make sure to keep that in mind when ordering anything. To tell the difference, Powerstroke OBS trucks will have a PowerStroke logo under the F-250 or F-350 badge on the fenders. These were also the first trucks to use the "Super Duty" name.
See turbos for these trucks available here.
1998-Early 1999 Super Duty
These are the first Super Duty trucks with a design substantially different from the standard F-150. There technically is no model year 1998 Super Duty, but 1999 models were on dealer lots in the spring of 1998, which may have caused some confusion at the time. This turbo is a one-year-only model; Ford made some revisions in December of 1998, and this turbo is for models produced before then. Early 1999 trucks can be spotted by PowerStroke badges on the fenders, while later trucks have them on the doors.
See turbos for these trucks available here.
Late 1999-2003 Super Duty and Excursion
This is the most common 7.3 turbo, since it had the longest production run. This is for trucks built December 1998 and later; the PowerStroke badges will be on the doors rather than fenders. This is also the turbo found in all 7.3L Diesel Excursions.
See turbos for these trucks available here.
1998-1999 E-Series Van
Because the Econoline and Club Wagon vans have a little less space under the hood than the trucks do, 7.3L vans use a relocated turbo with slightly different mounting points.
See turbos for these vans available here.
2000-2003 E-Series Van
For the model year 2000, the PowerStroke Diesel in the vans underwent the same changes the Super Duty did in late 1998. These are easier to order for, since you do not need the production date, just the model year.
See turbos for these vans available here.
International/Navistar T444E
This engine is found in medium-duty trucks; ones sized between an F-350 and a Kenworth or Peterbilt semi, mostly box or flatbed trucks. This is the engine that the 7.3L is based on, but that doesn't necessarily mean that parts can swap over. The T444E engine in these applications has multiple options for turbos, injectors, emissions equipment, and programming. Some parts might be interchangeable, but not all of it is tested and guaranteed to fit and work on a PowerStroke. To order parts for this engine or any other heavy equipment, you will need the OEM part number off the item you are replacing to ensure you get the correct item.
See International/Navistar turbos available here
Once you identify the model you need, there are still further options from there; do you want new or remanufactured? OEM or quality aftermarket? Stock replacement, or do you want to take the opportunity to upgrade the performance a little bit? Depending on your budget and what you plan to do with the truck, you have a lot of choices.
Remanufactured turbos can be tempting, but they carry some risk. Anyone can buy a junkyard turbo, clean it up with some degreaser, slap a cheap seal kit on it and call it "remanufactured". Quality remanufactured turbos will have all the wear items replaced, anything reused will be inspected for signs of stress, and the bearings will be thoroughly tested to ensure they can spin at 200,000 or more RPM without any resistance. While they are a great option for some obscure older cars, if you have something as common as a Ford diesel, the cost of a remanufactured turbo you can trust will be close to or even exceed the price of a brand new one.
If you want a little more performance and need to replace your turbo anyway, companies like Garrett, aFe and Stigan all make great upgraded turbos that will still bolt-in like OEM, meaning they won't be any harder to install. They will cost a bit more, and if the only thing you're doing is replacing the turbo, you might not notice a huge difference. The real benefit of a larger turbo becomes more noticeable if you have the supporting mods to make full use of it, like an intake and intercooler to flow more air, new injectors so the fueling system can keep up, and a tune to make sure it all works reliably. Still, given the nature of diesels, these relatively simple bolt-on modifications can yield huge results if you're interested.
Many people prefer an OEM replacement turbo, but they can often be double or more the price of a quality aftermarket replacement, with no real benefit. Quality aftermarket turbos are guaranteed to fit and perform exactly the same as OEM, using the same materials, and are backed by the same or sometimes a better warranty. You can use online reviews to find a new aftermarket turbo you can trust.
If you're still unsure about what's best for your vehicle, feel free to contact BuyAutoParts for knowledgeable assistance in getting the best replacement turbochargers and other parts for your vehicle. We carry guaranteed exact fit turbos from known brands like BorgWarner, Garrett, Holset, Stigan and more. All our parts professionals are here and ready to help!