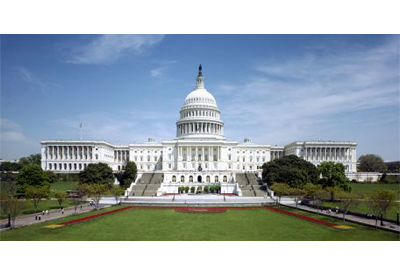 As I am sure most of you know by now, our government shut down at midnight last night due to our elected officials not agreeing on how to fund the government. The last time this happened in 1995, the government was shut down for 21 days. If this government shutdown lasts as long as the one in 1995 we will start seeing larger effects into different parts of our lives. In this entry, I will go ahead and explain some of the ways the automotive industry might be affected.
The automotive industry depends on the federal government to provide many regulations that consumers use in purchasing decisions. Regulation is very important, the longer this shutdown drags on, the longer the industry will go without important regulations such as fuel economy certification, federal safety recalls, and crash tests. Experts also speculate that if this goes on for too long, the lack of these regulations or the backlog of these tests, could lead to consumer distrust, which might cause car sales to slow.
Want to read more car news? Click here
NHTSA
The National Highway Traffic Safety Administration is one of those government agencies whose vital tasks, such as issuing safety recalls, has been deemed non-essential and therefore is not receiving any government funding during the shutdown. This means that they will not be able to conduct new investigations into any part or function defects that are reported and they will not be able to update the status of existing investigations. New recalls will still happen, as many recalls are issued by manufacturers themselves, but the NHTSA is an important and reliable source to attain information on those recalls and they will definitely not be issuing any of their own recalls during the shutdown. Another important function of the NHTSA is their car safety tests and the data they release from those tests. The tests and data are always important for consumer confidence, and for however long this shutdown lasts, none of these tests will be conducted and no reports will be released. This won't be too big of a deal if the shutdown only lasts a couple of days, but if it extends to weeks, the ripple effect will be felt throughout the automotive industry.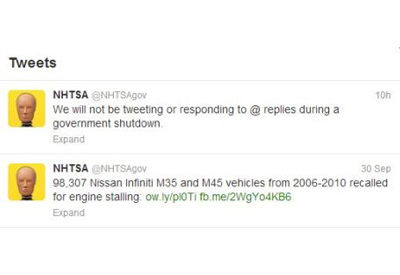 No tweets from the NHTSA either 
EPA
This is another agency that might cause a ripple throughout the automotive world that we all might feel. The environmental protection agency is responsible for issuing the official emissions certifications that we see on all new vehicles. While most new cars for the upcoming year already have their certification, there are still some that don't and this is a bad time to have been left last in line. A backlog of a couple of weeks for these certifications will definitely affect launch timing for upcoming models, which will be a big headache for dealerships and automakers throughout the country.
Want to save money on gas? Do it the EASY WAY
Sales
Will consumers buy less in October? This shutdown definitely has a far reaching economic effect, but how much will it impact sales in the automotive industry? That still remains to be seen, but some experts say that the drop in car sales in October alone could be as much as 4% and many say that the following month's numbers could drop more. Other automotive services might also see a direct impact if a lot of people that were making money previously, stopped doing so for weeks.
At this point, all this is speculative, but it could become very real if progress isn't made. For now, we wait and see.