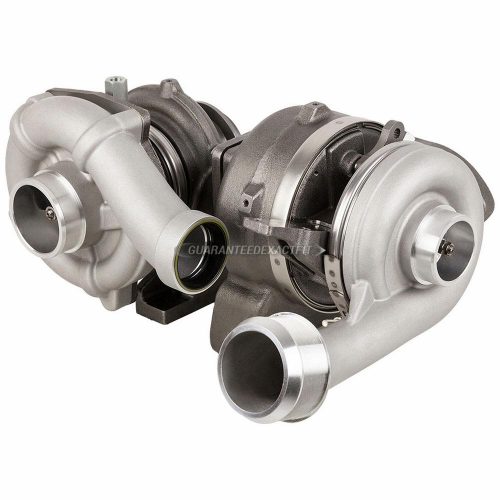 The Ford PowerStroke diesel engine has legendary reliability, but since these trucks are more than a decade old and most of them have 100,000 miles or more, a few repair bills here and there are to be expected. One of the most common repairs for any turbodiesel engine is turbocharger replacement. The turbo isn't designed to be a wear item, but the compressor wheel spins at a high RPM and is put under a heavy load when you use the truck for the kinds of work it was designed for.
6.0L
The 6.0L PowerStroke is a little controversial; it's objectively more capable than the 7.3L it replaced, but a few reliability issues have tainted its reputation. The 6.0 is originally derived from the International/Navistar VT365, with a few changes made to repackage it into a pickup and make sure it met newer emissions standards. Some of these changes are what impacted the reliability of the trucks, such as the restrictive EGR system and the complicated variable-geometry turbo. These issues are fixable though, and at the age and mileage these trucks are at, you have to expect some repairs anyway. Your 6.0 turbo may have soot-clogged VGT vanes, but a similar year Cummins or Duramax is likely leaking oil through the turbo. Considering how much more expensive the older, slower 7.3 is, the smart money is to buy an undervalued 6.0 and save a little bit of budget for high-quality aftermarket parts with design updates that fix the factory shortcomings.
2006-2007 E and F-Series Super Duty - Available Here
Late 2004-2005 (Production Date 9/29/2003 or later) Super Duty & Excursion, All 2004-2005 E-Series Vans - Available Here
2003-Early 2004 (Production Date Prior To 9/29/2003) Super Duty & Excursion - Available Here
2002-2004 F-650 & F-750 - Available Here
2005-2008 F-650 & F-750 - Available Here
6.4L
For the 2008 model year, the 6.0L was replaced by the 6.4L, a modified version of International/Navistar's fantastically-named MaxxForce 7. It's referred to as a twin-turbo, but it's actually a compound turbo. It's a lot like a sequential turbo setup where a small one operating at low RPM feeds into a larger one for higher RPM, so you get big-turbo power without the lag. On this compound turbo system though, both turbochargers are together as a single assembly, so it doesn't take up much more space than the single turbo on the 6.0L. You can order the halves individually as needed, but we also have the complete compound turbo assembly available to ensure better reliability and lower repair costs in the long-term.
6.4L Low-Pressure Turbo - Available Here
6.4L High-Pressure Turbo - Available Here
6.4L Compound Turbo - Available Here
6.7L
Ford introduced the 6.7L "Scorpion" for the 2011 model year, and it is the first PowerStroke diesel developed in-house by Ford themselves, rather than a modified International engine. The compound turbo from the 6.4L is replaced with an SST / Scorpion VNT dual boost single SST3266V Garrett turbocharger. The first of its kind, this Garrett turbocharger contains the world's first dual-sided compressor wheel. This innovation enables two-stage engine boosting out of a single turbocharger, essentially allowing the single sequential turbocharger to act like a dual turbocharger system with less weight and greater reliability. Traditional variable vane turbochargers don't require a wastegate and prevent over-speeding by opening vanes in the turbine housing. This unit, in contrast, uses variable vane technology to spool quickly, while also using a wastegate to eliminate possible over-boosting.
2011-2014 Super Duty Pickup - Available Here
2015-2016 F-250 Pickup - Available Here
2011-2016 Super Duty Cab & Chassis - Available Here
Once you identify the model you need, there are still further options from there; do you want new or remanufactured? OEM or quality aftermarket? Stock replacement, or do you want to take the opportunity to upgrade the performance a little bit? Depending on your budget and what you plan to do with the truck, you have a lot of choices.
Remanufactured turbos can be tempting, but they carry some risk. Anyone can buy a junkyard turbo, clean it up with some degreaser, slap a cheap seal kit on it and call it "remanufactured". Quality remanufactured turbos will have all the wear items replaced, anything reused will be inspected for signs of stress, and the bearings will be thoroughly tested to ensure they can spin at 200,000 or more RPM without any resistance. While they are a great option for some obscure older cars, if you have something as common as a Ford diesel, the cost of a remanufactured turbo you can trust will be close to or even exceed the price of a brand new one.
If you want a little more performance and need to replace your turbo anyway, companies like Garrett, aFe and Stigan all make great upgraded turbos that will still bolt-in like OEM, meaning they won't be any harder to install. They will cost a bit more, and if the only thing you're doing is replacing the turbo, you might not notice a huge difference. The real benefit of a larger turbo becomes more noticeable if you have the supporting mods to make full use of it, like an intake and intercooler to flow more air, new injectors so the fueling system can keep up, and a tune to make sure it all works reliably. Still, given the nature of diesels, these relatively simple bolt-on modifications can yield huge results if you're interested.
Many people prefer an OEM replacement turbo, but they can often be double or more the price of a quality aftermarket replacement, with no real benefit. Quality aftermarket turbos are guaranteed to fit and perform exactly the same as OEM, using the same materials, and are backed by the same or sometimes a better warranty. You can use online reviews to find a new aftermarket turbo you can trust.
If you're still unsure about what's best for your vehicle, feel free to contact BuyAutoParts for knowledgeable assistance in getting the best turbochargers for your vehicle. We carry guaranteed exact fit turbos, intercoolers, and more from known brands like Garrett, Holset, BorgWarner, Stigan, IHI and more. All our parts professionals are here and ready to help!