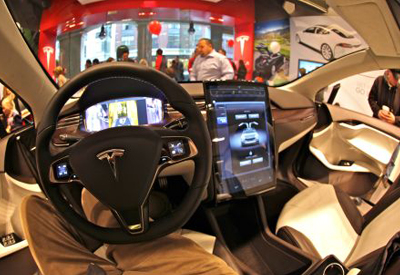 Tesla Motors CEO Elon Musk recently made headlines (once again) by telling London's Financial Times that Tesla should be able to provide a near driverless experience for 90% of the time a car is on the road by 2016. This is the future. Remember those flying cars and everything else in those fictional books and TV shows we read or watched when we were little? Well, this would be one of the biggest advancements in technology that takes a step toward those fictional cars we all expected would be here by now. Sure, Elon Musk may be seen by half of the United States as a crazy entrepreneur who just wants to ruin the traditional system, but in the eyes of many, he is a real life Tony Stark (Iron Man): an inspired billionaire with a cause. If Elon Musk says something, people listen because he has consistently proven doubters wrong in the past and with all the success Tesla has had recently, he has the team behind him to accomplish such a feat.
3 YEARS!? Why is that special?
I will explain this in depth because there is a multi-layered answer to this question. First, Elon Musk making a statement like this will push his competitors to keep up. The traditional big shots in the automotive industry are already highly annoyed by Tesla's success, they have tried their hardest to shut them down and Tesla just keeps going. If Tesla takes the lead in a technology like this, the future will be theirs to grasp. Automotive executives don't want that to happen and many of the big car companies are already working on similar technologies. Now, they have to hurry it up and keep up. [Read More About Tesla Vs The Dealerships]
Moving along, a 90% driverless experience in 3 years will push a 100% driverless experience to come earlier, rather than later. The closest any other big car company is to driverless technology is Nissan, who estimates they could release this by 2020. GM has several projects in the works that would provide a driverless experience, but no release date estimate has been announced. Tesla would be accelerating this technology by at least 4 years. [Read about more cool car technology, like the Automatic Link]
Finally, if Tesla creates technology like this, other car makers will start to move into other advanced futuristic technologies such as: energy storing body panels, airbags that help stop cars, augmented reality dashboards and maybe even cars that communicate with each other. All of the above are reasons why, if Musk holds true to his statement, we should all be excited.
Would you buy a self-driving car?