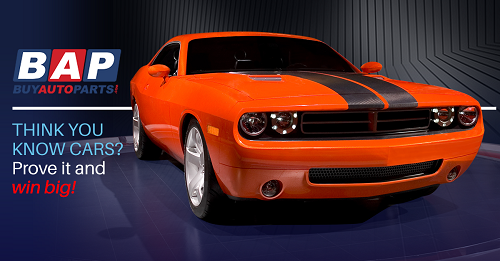 Think you know your cars? Do you count classic cars in your sleep instead of sheep? Want to put your knowledge toward a fun and potentially profitable contest? Welcome to the BuyAutoParts.com Gearhead Quiz Marathon!
The Details
•The Gearhead Quiz Marathon is officially underway, and will run for 10 weeks on our Facebook Page. You can join in at any time and still be eligible to win the weekly and grand prizes!
•Every week, we'll feature one question about classic car models, car parts and other stuff gearheads love.
•We'll gather all the correct answers from each weekly question and pick a random $25 BAP Dollars winner.
•For each correct weekly answer, you'll receive an entry for the Grand Prize drawing (10 correct weekly answers = 10 total entries).
•At the conclusion of the Gearhead Quiz Marathon, we'll select a random Grand Prize $500 BAP Dollars winner, based on the entire pool of weekly correct answer entries.
•The more you know, the better chance you have to win big BAP bucks!
The Physical Requirements
Even though this contest is a "Marathon," you aren't required to run 26.2 miles. Only requirements are an internet connection and the ability to click a mouse.
The Stakes
Bragging rights. Your name in bright lights (well, at least recognition through Facebook and our website). Oh, and the chance for some major moolah to spend as you wish at BuyAutoParts.com.
Check out the official BuyAutoParts.com Gearhead Quiz Marathon contest on Facebook. Thanks for reading our blog – and good luck—you'll need it!
Written by Dara Greaney