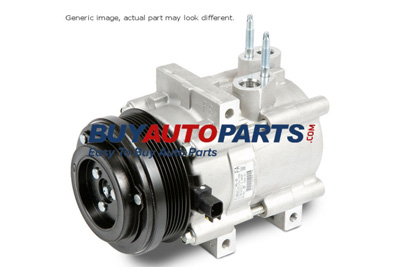 June 24, 2013 - All the various components in your car come under wear and tear through everyday use. At some point parts can break down and fail. The AC compressor is one such component that is heavily used and put under a lot of pressure. If your compressor is beginning to falter, then you should be prepared to deal with the problem.
You won't get that all important cool air on hot summer days, without a working air conditioning compressor in your car. Read on to learn how to diagnose any potential issues and how to get them fixed.
How to Diagnose a broken AC Compressor
The first sign of an issue will be the air conditioning blowing only hot air or it's completely stopped blowing. Now the problem may not necessarily be the compressor, so you should check to see if it engages.
Find the compressor in your car. It is inline with the main belt in the engine, which is commonly known as the serpentine belt. Then turn on the air conditioning. If the compressor's clutch begins to spin, it has engaged and so the problem is somewhere else. If the clutch fails to engage, then double-check the power going to the clutch. If the clutch is receiving power, then you almost definitely have a broken AC compressor.
Another symptom to watch out for is unusual noises coming form the compressor when the AC is turned on. This could just be caused by minor engine noises, but if the problem continues it is best to have it checked out.
Repairing the AC Compressor
The AC compressor works at high pressures, uses liquid refrigerant, and needs special tools to replace. It can be hazardous to repair without the proper knowledge, so it is highly recommended you go to your local expert mechanic.
Depending on the state of the compressor and the extent of the damage, a simple repair could get everything back up and running. Otherwise you may need to purchase a new AC compressor to replace the old one.
Get your AC serviced every couple of years to avoid this kind of problem in the future. This includes changing the compressor oil and having a coolant flush. Regular maintenance is the best way to keep your car running for a long time and will save you a lot of money and headaches in the long run.