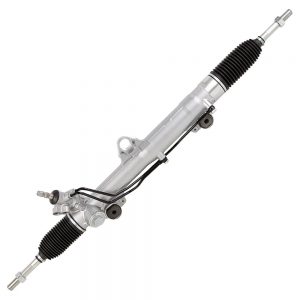 Rebuilding steering rack and pinions is where our company started over 30 years ago, and it remains a core part of our product line. Since then, in addition to expanding the number of applications we carry steering gear for, we now also offer brand new rack and pinion assemblies with no core deposit or return required, and Duralo steering racks with a lifetime warranty. We've also kept up with developments in automotive technology, such as variable-assist hydraulic racks, and the invention of electric power steering.
There are three main categories of steering rack; manual, hydraulic power, or electric power. A manual steering rack is either for older cars without power steering, or for certain newer cars with electric power steering that have the electric motor separate from the rack itself. A hydraulic power steering rack is the most common variety, for models with traditional power steering systems, including a steering pump and lines to go along with it. An electric power steering rack is for cars with, you guessed it, electric power assist steering, but unlike EPAS cars that confusingly use manual racks, electric power steering racks have the steering gear and electric motor together as a single part. We go into more depth about that difference here.
For many applications, we offer either a remanufactured OEM part, or a brand-new aftermarket. All our remanufactured steering racks receive new bearings, seals, boots, clamps, subframe bushings and a thorough cleaning and inspection. Inner tie rod ends, internal shafts and gears are machined or replaced as needed, and aluminum bodies receive a steel sleeve to ensure structural rigidity. For more common applications, we also offer brand new steering racks that fit and perform identically to the OEM part at a fraction of the price, and since they are brand new, they don't require any core deposit or return. If your vehicle's original steering rack was manufactured by Bosch, ZF or Delphi, we can also source a genuine OEM replacement as well; the exact same item you'd get from a dealership, just in a different box. All our steering racks have a minimum three-year warranty, with extended warranty options available as well.
Some vehicles notorious for steering rack failure include:
| | |
| --- | --- |
| 1995-2004 Tacoma 4WD, PreRunner & 1996-2002 4Runner | Order Here |
| 2008-2012 Honda Accord 4-Cyl | Order Here |
| 2006-2011 Honda Civic - Excludes Hybrid & Si | Order Here |
| 2007-2013 Silverado, Sierra, Tahoe, Yukon, etc | Order Here |
| 2007-2010 Honda Odyssey | Order Here |
| 2007-2013 Toyota Tundra, 2008-2016 Sequoia | Order Here |
| 2004-2008 Acura TSX | Order Here |
| 2004-2008 Acura TL, 2003-2007 Accord 4-Cyl | Order Here |
| 2011-2012 Ford Explorer w/o Auto-Park | Order Here |
| 1996-2002 BMW Z3 - Excludes M | Order Here |
| Chevy Trailblazer, GMC Envoy, Buick Rainier, etc | Order Here |
| 1997-2004 Dakota 2WD, 1999-2003 Durango 2WD | Order Here |
| 2002-2006 Nissan Altima, 2004-2008 Maxima | Order Here |
| 2003-2008 Toyota Corolla | Order Here |
| 2004-2015 Nissan Titan & Armada | Order Here |
| 2008-2012 Ford Taurus, Flex, Lincoln, Mercury | Order Here |
| 2001-2007 Toyota Sequoia, 2000-2006 Tundra | Order Here |
| 2005-2020 Nissan Frontier, Xterra, 2005-2012 Pathfinder | Order Here |
| 2005-2011 Dodge Dakota, Mitsubishi Raider | Order Here |
| 2004-2010 Toyota Sienna | Order Here |
Unsure exactly which system your car has? No worries! We have our catalog set up so, on our site, you can just enter your vehicle information, select "Rack and Pinion" as the part you're looking for, and you'll be presented with whichever variety your vehicle has. There might still be a choice to make, if you have an older vehicle where power steering was an option, or if there are different versions of the rack depending on engine or performance options. If you're still unsure, call or email us via the "Contact Us" link with your vehicle details and we can explain your options. In addition to rack and pinion assemblies, we also carry direct-fit replacement steering shafts, pumps, gearboxes, tie rod ends, and more, all backed by a minimum one-year warranty.