How To Buy Struts and Shocks
---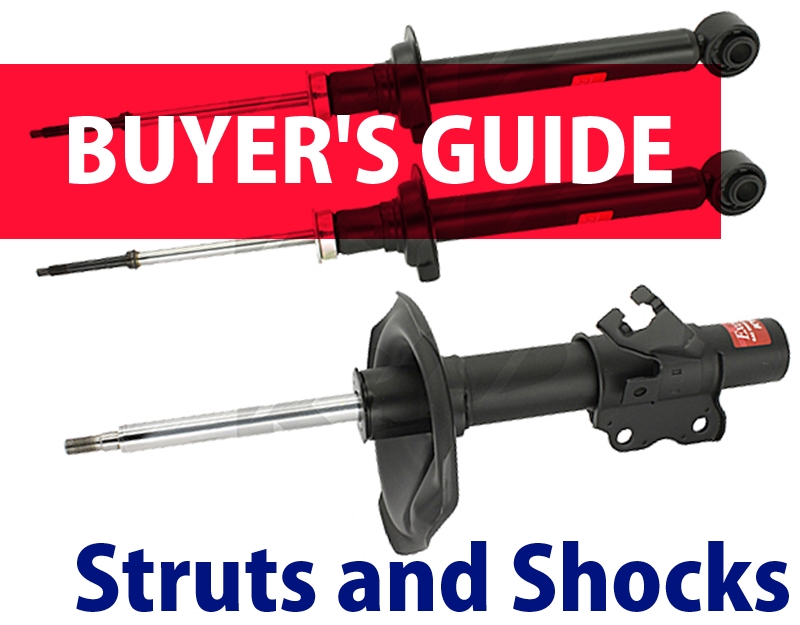 Sometimes buying struts or shocks for your car can be pretty confusing, we get it. Since our company mission is to make it easy to buy auto parts, we decided to make our customers a buyer's guide to make the purchasing process a little easier, especially if you're unfamiliar with auto parts. With this Shocks and Struts Buyer's Guide, we will answer whatever questions you may have on how to buy struts and shocks, how these parts function, and how to differentiate between the options.
What is a strut?
Struts and shocks are considerably different, despite their similar appearance. Struts are the structural component of the suspension system and are mounted directly onto the chassis of a car. The coil spring is mounted onto the strut, which is the part that maintains the ride height of the vehicle. Typically when one strut goes bad, it is recommended that you replace the part in pairs for even wear-and-tear. So if one front strut is defective, then you would have to replace both front struts for the best results. You can find more information here: What Is A Strut?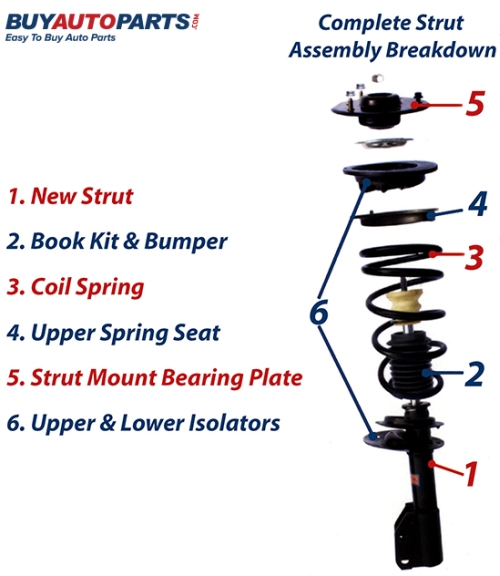 What is a shock absorber?
As part of a vehicle's suspension system, a shock absorber has one job: to keep the car from bouncing. Shocks will give you better handling than struts. In some vehicles, a car could have front struts and rear shock absorbers. Be sure to know which ones are on your car before you purchase replacement parts. Like struts, it is recommended that you replace shocks in pairs as well.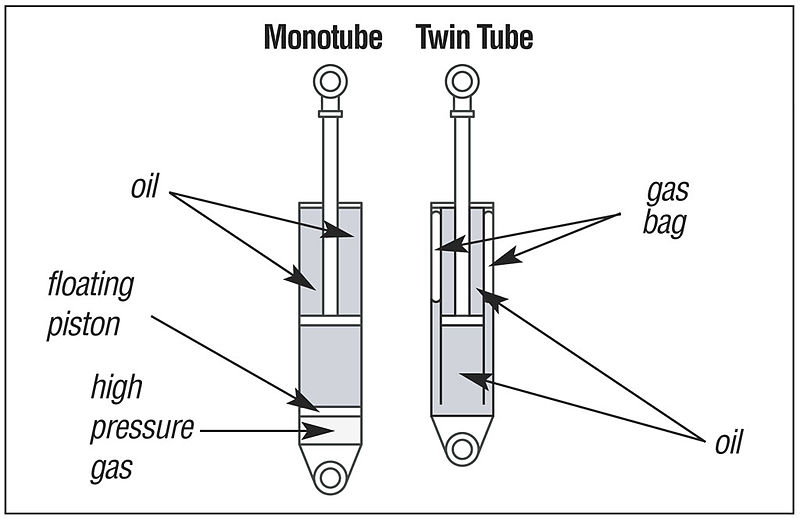 How Can You Tell That Your Struts and Shocks are Worn Out?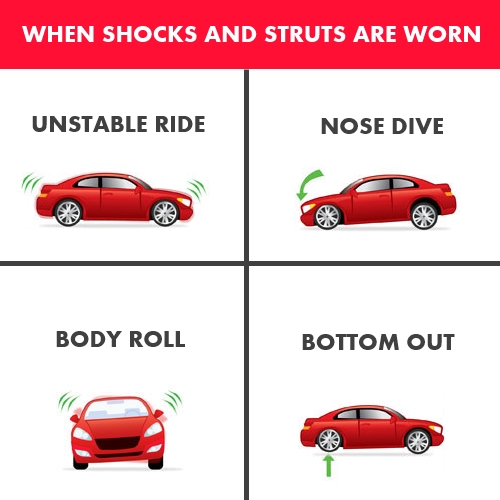 Stability and Control
When shocks or struts are worn, the vehicle will lose stability and it will feel difficult to control. When you turn, it will feel like the vehicle is tilting from side to side, even at a slight turn. Also, the smallest bumps or dips in the road will feel harsh when you drive over them.
Steering Response
Steering will start to feel unresponsive. The vehicle will require more steering corrections when driving, and changing lanes at high speeds will start to become extremely risky.
Stopping Distance
When braking, bad shocks will cause the front end to take a nose dive. The result of this is increased stopping distance due to the excessive play in your shocks or struts. Driving excessively with bad shocks will also put more pressure on your brakes, and can possibly cause damage.
Click our article to read more about how you can tell if you have bad shocks: Signs You Need New Shocks or Struts
Finding Your Shock or Strut's OEM Part Number

If you cannot find your strut or shock by searching your vehicle's year, make and model, the best way to find the right strut or shock for your car is by searching by the Original Equipment Manufacturer (OEM) part number off your stock strut or shock assembly. The OEM part number can be found directly on the part itself, usually on a sticker. Also, if you call a dealership with your Vehicle Identification Number (VIN), they have the ability to look up and provide you with the OEM part number. If you need any further assistance with how to buy struts or shocks for your vehicle, please give one of our suspension specialists a call at 1-888-907-7225.

    

Pick up a Pair or a Set for Better Pricing!

If you're replacing one strut or shock, we recommend changing out the whole set or at least a pair for even wear-and-tear. You can find our kits or pairings by clicking the link "Click for more info" on the product page.

Please give one of our suspension sales specialists a call at 1-888-907-7225 and we will be happy to assist you with finding the right strut and shock kit for your car.

Check out BuyAutoParts.com's shipping and warranty policies.

Frequently Asked Questions

How can I tell if my Mercedes has AIRMATIC or ABC?

Airmatic suspension is simple air suspension. You can use it to adjust ride height and firmness. If your car is equipped with Airmatic, you will have clear air lines leading from the top of the shocks. ABC stands for "Active Body Control" is hydraulic or oil driven suspension. If you have ABC suspension, you will have small black electric plugs leading into the top of the shocks.To quickly figure out if your Mercedes-Benz has Airmatic or ABC, check your center console for a button labeled "ABC". If you do not have this button, you have Airmatic suspension in your Mercedes. Click the link for more information on the Difference Between Airmatic and ABC Suspension.

What is Electronic Stability Control?

Electronic Stability Control (ESC) is a safety system available for some vehicles that detects when a driver may lose control on curves. The system will instantly apply individual brakes and slow engine speed to help prevent an accident from occurring. This safety feature was first introduced into the market in 2000, was applied to about 50 percent of vehicles until 2007, and is now required for all new vehicles. For more information on Electronic Stability Control, please visit: What is Electronic Stability Control?

How long does it take to install struts/shocks? How much does installation cost?

Typically, if you're replacing one pair, the installation will take about 2 hours. If you're replacing front and rear, the process will be 3 to 4 hours. After you're done, you'll have to realign your car, so be prepared to add another hour for alignment. Hourly rates vary depending on the mechanic, but you should not be billed for more than 5 hours for the installation.

How much do shocks or struts cost?

Struts and shocks pricing varies depending on the vehicle. For simple struts or shocks, a single one can run about $60-$120, with deals on pairs or full sets. If your vehicle's suspension system is extremely complicated or heavy-duty, a single one could run $200-$400 per part, which deals on pairs and full sets. The best way to be 100% about the ones you need is by providing us the OEM part number. Give one of our suspension specialists a call at 1-888-907-7225, and we'll be able to find you the part at a great price!

Sample Installation Videos

How To Change Front Struts

How To Change Rear Shocks