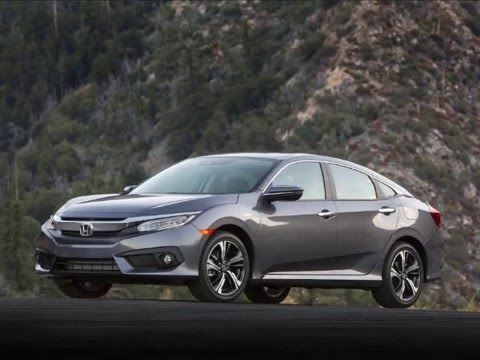 The 2016 Honda Civic Turbo represents a major change for an established platform.  This is the first Civic ever offered in factory trim that also features a boosted engine of any kind.  Previous versions of turbocharged or supercharged Civics were only achieved through the aftermarket or Honda's race teams. This is, in fact, only the second try Honda has made at equipping a production model with a turbocharger, the first being the Acura RDX (more on that from the perspective of a parts professional later).  Being only their second attempt, the stats aren't unimpressive: 174 horsepower and 162 lb-ft of torque and 15.3 second quarter mile out of a 1.5 liter turbocharged engine.  That quarter is only two tenths of a second slower than the prior 9th generation Civic Si, which came equipped with arguably the best four cylinder engine Honda has ever made in that particular variant of the K24.  Mated to a newish CVT, this new turbocharged Civic seems to be a capable platform.  There is one thing that doesn't sit quite right though – THIS CIVIC IS TURBOCHARGED?!?!
Honda has a long and respectable history of making small, high-revving, efficient, and naturally aspirated (read – NOT boosted) engines.  They make and have made small equipment and motorcycle engines that spin well past that 10K rpm range. Beyond that, their price points across their range have made most of their engines and vehicles universally accessible while their longevity has allowed Honda vehicles to pass through many hands on the secondary markets.  Used Civics have long been prized on the used car market, owing largely to their low maintenance costs and longevity.  Early 1980s models offered at least 200,000 miles of reliable service if the owner preformed regular and honestly minimal maintenance.  That number is less impressive in 2016 terms, so it stands to reason that future entrants in the Civic talent pool ought to offer that or better.
This writer is no stranger to the Civic.  I've owned or had long-term lease agreements on seven of them ranging from 1989 to 2008 in a variety of trim levels from HF to Si.  My current commuter is a 2008 LX sedan. I've happened into these Civics more via circumstance than outright love, though I have loved a couple of them.  Consistently, they have been efficient, reliable, and cheap to maintain and operate in general.  Other Civic owners have reported the same for decades, which is precisely why they bear good value on the used car market. I've been active in online communities.  Additionally, I've worked on my own and on others' Civics. I've also sold replacement parts, performance parts, and accessories for them with some moderate success.
In my professional life, I've at points been responsible for a significant replacement turbocharger business that included both original equipment and rebuilt unit sales.  This brings me to the note I left earlier about the Acura RDX, Honda's first factory turbocharged effort. I see significant demand for the RDX turbo, which is concerning given the relatively low unit sales and low age of these vehicles.  Turbocharger cores that I've received and sent to rebuilders have come back to me more often than not marked "Not Re-buildable" due to serious housing damage.  Housing damage only occurs when shaft play gets incredibly bad, and that should be the exception rather than the norm.  Anything else, when failures occur this early in the normal course of use, implies a design or manufacturing flaw.  Granted, that was Honda's first attempt, and they tried something possibly bold in the form of variable flow technology.  But so far, from what I can tell in both consumer adoption and premature failure rates, that RDX wasn't a rousing success. That leaves this Civic as Honda's second attempt at factory turbocharging, and they have done it in their iconic best-seller known for reliability and low maintenance costs.  That's what has me worried most.
It is the specific combination of high-boost, high compression, and minimal background with the technology that concerns me the most.  The 2016 Civic Turbo boasts a 10.6:1 compression ratio AND a single scroll turbocharger maxing out at 16.5 lb of boost.  Both of those strike me as very high, and in combination with each other, they translate to a little 1.5L engine that has to work very hard to achieve its output, with the turbo working very hard as well, all while absolutely no miniscule tolerance is impeded upon (I should add this is all supposed to run on 87 octane low grade pump gas).  Mate that turbo with an electronic actuator and watch parts professionals across the country drool in anticipation of failure.  All of that tech and output is asking a lot of any manufacturer without many, many years of experience with forced induction.  Honda doesn't have that, plain and simple.  But they aren't new to this game, and they continue to fight increased quality from the Americans and Koreans, so I have no doubt that they at least think that they have this under control.
Truly, only time in service can tell whether or not Honda has employed reliable technology in their new turbocharged Civic. Used car experts for ages have warned against buying the first in any generation of vehicle in an effort to allow the manufacturer to iron out wrinkles.  Add in a turbocharger to the mix and I suspect that same suggestion bears extra weight.  By all means, make your own auto purchasing decisions, but that is my take on the 2016 Honda Civic Turbo.  I'm holding out for more data. [Searching for Honda Civic Parts? Check out our Honda Civic Part Inventory]
Written by Jeremy Crankshaft - BuyAutoParts.com Turbocharger Expert