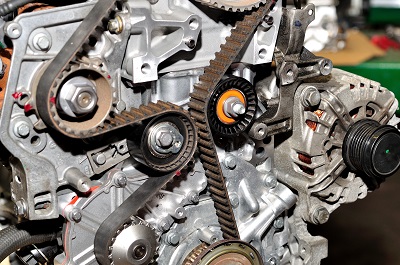 The timing belt is one of the most underrated performers in your car's internal combustion engine. Often out of sight and usually out of mind – timing belts are one of those engine components that evades attention right up to the moment it doesn't work – the timing belt's job is to make sure the crankshaft and camshaft are aligned or "in sync."
When a timing belt starts to go bad, your engine is at risk for major problems, not the least of which improperly opening and closing of the engine valves. The good news is that you'll probably be given fair warning before things turn from bad to worse. If you ignore the two main types of timing belt noise, you're rolling the dice.
So what is your timing belt noise telling you? Plenty of things, as you'll see – and they're not always directly due to the timing belt, but rather related components.
The two primary timing belt noises are intermittent and constant.
Intermittent noise. Also commonly called the "chirp" sound, this is usually the result of a misaligned belt. Here's the important thing to remember with intermittent noise: the volume and pitch remain the same, even as the engine increases output. Contaminated fluid, improper installation and worn belt ribs can also cause the chirping sound.
Constant noise. This is that high-pitched "squeal" noise that often accompanies the turn of your key, when your engine starts. Unlike the chirping belt noise, this one does increase in volume. Plus, this particular belt noise changes as your car engages or disengages certain accessories. For example, the squealing noise can intensify when you turn on your air conditioner. Mainly, constant squealing is the result of not enough tension between the belt and pulleys. And similar to the intermittent chirp sound, this can also be caused by a poorly installed engine component.
Regardless of the type of noise, here's something your timing belt is definitely telling you: please skip the "belt dressings." It's a common misconception that different auto fluids (gasoline, brake fluid, oil, etc.) can help "grip" the belt to the various idlers and pulleys of related components. Once you've diagnosed the problem based on the kind of noise, component and / or belt replacement is recommended to get your car back to optimum performance.
To save costly labor repair expenses, you can always change your timing belt yourself. Along with the built-in budget-friendly aspect of doing it yourself, you'll also gain a personal sense of accomplishment. And no other parts supplier is better positioned to help you than BuyAutoParts.com. Our timing belt kits offer OEM quality at ultra-affordable prices.
Browse our selection today. If you have any questions about our timing belt components, you can also reach our auto parts consultants at (888) 907-7225. The BAP contact page is also a great resource; we offer tech support, sales and even live chat sessions.
Written by Dara Greaney