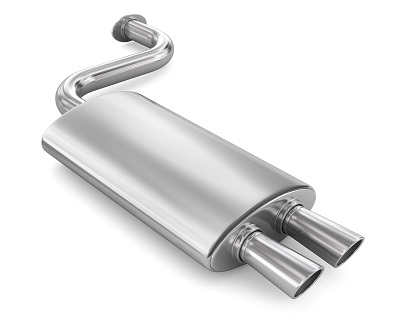 You want the best for your car, right? If needed, you'll put in the 89 or 93 octane fuel. You're always on top of oil changes, and you regularly perform routine maintenance. When it comes to replacement parts, the same principle applies: given the choice of an average part and an exceptional one, superior quality and performance are preferable.
Here's where it gets tricky…whenever the discussion turns toward "the best parts," some parts get little or no recognition. Thinking about upgrading your current turbocharger? There's the perfect example of a part that always gets talked about. On the other side of the equation are the "other parts," those components that lack the appeal of things such as turbochargers, but still deserve consideration.
As you probably figured, the muffler is one of those forgotten parts. Not totally brushed up under the rug, mind you, but still coming up short when considered for replacement. There are some pretty good reasons to invest in a high-quality muffler. We're here to put the muffler back on the map. Here's why you should consider the best possible muffler replacement:
Better Gas Mileage
If you have a smaller car, an outstanding (as opposed to average) muffler replacement can help boost gas mileage. It's not significant, but can add up over time. Even if you see a 4-5% increase in gas mileage efficiency, that translates into a free gallon of gas every other fill-up. Mufflers aren't well-known as mileage improvers, but an excellent muffler can help in this regard.
The Noise Factor
When you settle for just any muffler replacement, there's something you'll notice right away…it's usually louder. But with mufflers and exhaust parts from a supplier like MagnaFlow, whisper-quiet operation is a given. When your new muffler is quieter than the original factory muffler, you know you have a keeper!
Better Engine Efficiency
Don't expect to turn your family sedan into an Indy sprint car with a top-of-the-line muffler. However, the increased efficiency can provide a small, noticeable power boost. This "power" is actually the result of a better-running exhaust system. Think of it this way: only the best mufflers allow your engine to perform at its very best. Flowmaster's efficient design, advanced engineering and proven performance metrics make it a favorite choice.
Durability & Reliability
As the old adage goes, "you get what you pay for." Same goes with mufflers. If you've ever dealt with a subpar muffler, you know how it goes: soon after replacement, your car experiences funny noises, power spurts and other unexpected glitches. Just two more reasons to get a recommended replacement: durability and reliability.
Easy Installation / Better Integration with Existing Exhaust Parts
The best mufflers just fit like a glove. Remember, a muffler replacement involves connecting the new part with new or old inlet pipes (usually coming out of your catalytic converter). When you go with a lower quality muffler, the mere act of installation can become an hours-long episode. An exceptional muffler installs easily, as if it was designed exactly for your car's exhaust system.
Along with Flowmaster and MagnaFlow, BAP offers the best exhaust parts for your car. Just call us at (888) 907-7225, or chat with an exhaust expert on our contact page.
Written by Dara Greaney