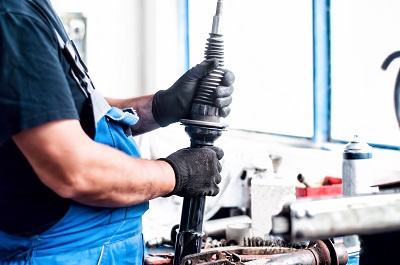 Do you avoid potholes at all costs? Is a speed bump something that keeps your car bouncing, even after what seems like miles afterwards? Are you constantly swerving to avoid the smallest ruts or bumps on the road? If so, it might be a good time to evaluate your car's suspension system. By replacing worn or outdated parts, you'll enjoy a much smoother ride – and your car will thank you for it. And so will those other drivers, as you'll no longer need to swerve & dodge every rut & ridge on the road!
There are a few telltale signs to look for that indicate worn struts and shocks. Along with the incessant "bounce effect" we just talked about, you should also be aware of any excessive sways or tilts during turns. Another classic indicator is your tire scraping the wheel well. This means that your suspension system is completely shot and should be replaced immediately. Unresponsive steering and longer braking distances are also signs you may need a new suspension system.
Of course, simply having subpar parts can also negatively impact performance. If you're not sure about the quality of your car's suspension parts, there are three things you can do to ensure you're getting the best possible ride:
1. Double-check your suspension system parts with the OEM (original equipment manufacturer) number. Particularly for older cars, this could be a problem. If you've even gone "the cheap route" with a suspension system repair, there's a chance you may not even have the correct struts, shocks, springs and other parts.
2. Perform regular interval checks. As a general rule of thumb, have your suspension system checked every 50,000 to 75,000 miles. If you have an older model and aren't sure when the last time you've had your suspension components installed, it doesn't hurt to have it looked at.
3. Don't forget the surrounding support system. Aside from your struts & shocks, there are other accessories and parts that aid in your total suspension system performance. One such component is the upper bearing plate, sometimes called an upper strut bearing. Located at the top end of the strut assembly, this device allows smooth transition during steering. A bad bearing plate often results in a "clicking" sound when steering, increased suspension noise and poor steering control.
Buy Auto Parts is your go-to source for all the top suspension components. If you're looking to upgrade your car's suspension system – either a minor fix or a major overhaul – we have everything you need at outstanding prices.
Plus, we've complied a few invaluable buyer's guides for all kinds of popular parts and accessories. These guides include two resources on suspension parts. Check out our Air Suspension Parts and Struts & Shocks guides for expert advice, part suggestions and much more. These buying guides are just another way that Buy Auto Parts goes the extra mile for our customers.
If you have any questions about a particular part or you'd like to place your order today, our suspension parts experts are standing by. You can reach us at (888) 907-7225. We look forward to helping you today!
Written by Dara Greaney