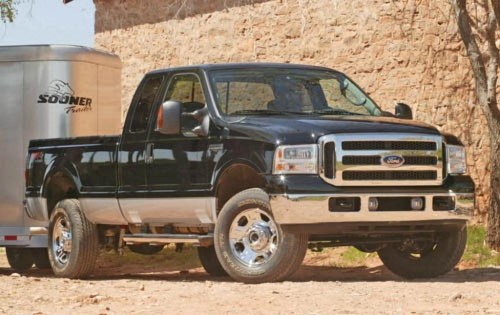 One of the most common points of trouble and a common source of reliability complaints with the 6.0l Ford Powerstroke Diesel is the failure of the diesel injectors. These injectors drive diesel fuel into the cylinder where it is oxidized and ignited, creating the legendary earth-moving power the Ford Powerstroke is known for.
The first of the three basic types of Powerstroke Diesel Injector failure is normal mechanical wear and tear. As trucks equipped with the 6.0L Powerstroke get older, this type of diesel injector failure has become more and more common. The problem is that over time, the moving components inside the injector assembly wear and degrade and are unable to perform their function without causing a dead miss.
The second main cause of injector failure is linked to the common issue behind other failures on the 6.0L Powerstroke: oil cooling. Inadequate upstream oil cooling can cause a host of issues on these engines. As oil degrades and gets sludgy, the 6.0L Powerstroke's oil cooler begins to lose the ability to cool oil to the level needed for proper engine function. Since injector pressure is controlled by oil flow, inadequate oil pressure can cause premature failure of the injectors, the high pressure oil pump (HPOP), and other parts bolted to the engine itself.
That same oil cooler serves to help pump oil through the high pressure oil pump to the EGR cooler, and when the oil is too hot, the EGR valve can clog and the cooler can fail. When this occurs, the intake ports – and in fact the whole intake manifold – can become restricted, and contribute to rough idle, decreased performance, and worsened fuel economy. To help avoid problems that come with poor oil-cooling, make sure to change your oil at least every 5,000 miles with a high quality 15W40 Diesel oil, have your oil cooler inspected at your next service, change your fuel filter at least every 10,000 miles. In addition, keep a good, strong battery in your vehicle at all times to help avoid Diesel Injector Driver Module (DIDM) failure, a related issue that can fail injectors but not caused by the oil system on this engine.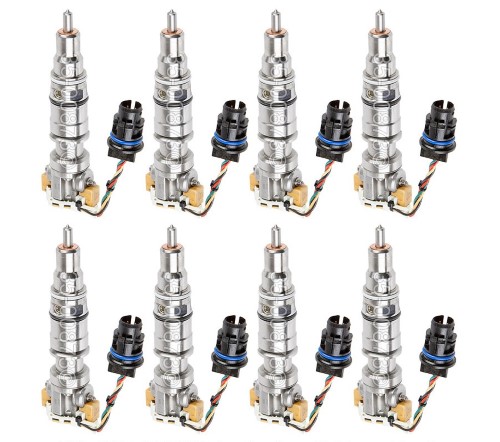 Because the parts are by necessity very small and built with tight tolerances to deliver precise quantities of fuel into your Powerstroke engine, rebuilding an injector requires special training, components, and equipment. For the average DIY mechanic without those resources, that translates to large sums of money and long waits while you ship your injectors off to a dedicated diesel injector technician that can handle the job. In most cases, it's much easier to simply replace the defective unit with a replacement 6.0 Powerstroke diesel injector from BuyAutoParts.com. Our units are fully rebuilt and guaranteed to restore the power lost to fuel starvation in your 6.0L Powerstroke equipped Ford E-Series van or F-Series Truck. You can cut out the down time and save money in the process when you get your rig back up on the road that much faster.
The third main cause of diesel injector failure in the Ford 6.0l Powerstroke engine is also related to the oil system and is commonly known as "stiction" or latching of the spool valves. Every 6.0l Powerstroke diesel injector has two spool valves: one that fires the injector by allowing high pressure oil in, and another to let it out which stops the fuel delivery. With age, the spool valves weaken, don't drain quickly enough, or suffer a buildup of motor oil varnish, and then lose the ability to pull the valve open and closed fast enough to deliver fuel in the correct volumes. Diesel injector stiction is most noticeable at idle when the engine oil is cold and the injector pulses are far apart and will continue until the engine oil gets up to normal operating temperature, but this often seems like a frustratingly intermittent problem and can be hard to diagnose for the inexperienced diesel mechanic. And often, when the injectors are identified as the problem, many rebuilding and refurbishing shops will perform a cursory refurbishment, and will not replace the spool valves. But you can rest assured, all the injectors that we sell for your 6.0L Powerstroke come complete with all brand-new internals.
Resolving stiction can be a similarly difficult task. As we stated above, regular oil changes with quality oil goes a long way to preventing the problem and extending its useful service life, but that only helps to prevent a issue before it becomes a problem. Once you encounter the symptoms of spool valve stiction there is very little you can do to clean, or otherwise rejuvenate the spool valves inside the diesel injectors. And because stiction results from issues with how the injector is supplied by the oil system, the problem frequently affects more than just a single injector, especially when the odometer has rolled over a huge number of miles. For extreme cases like this and cases when your Ford van or truck has high mileage or sees heavy use, we recommend purchasing a complete set of rebuilt replacement 6.0L Powerstroke diesel injectors or upgrade to our high-quality Bosch remanufactured replacement Powerstoke injectors. In addition, don't forget a DIDM, a fuel filter, and a HPOP to completely rejuvenate the high-pressure diesel delivery system under your 6.0L Ford Powerstroke diesel workhorse.