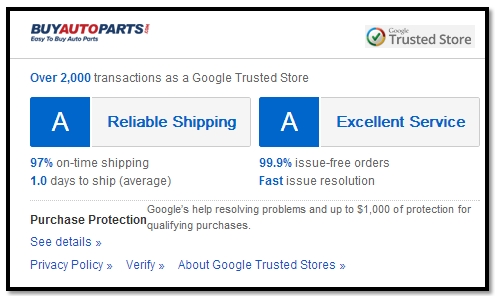 November 6, 2012 - BuyAutoParts.com is very proud to announce that we are officially a Google Trusted Store. We want to take a second to pat ourselves on the back, because we think we've earned it. More importantly I want to address what buying from a Google Trusted Store means for you, the customer. Being a Google Trusted Store is a big deal. It's not just something you can buy your way into—you have got to earn it. By becoming a Google Trusted Store BuyAutoParts has joined the ranks of the some of the most successful online retailers.
At the bottom right corner of our webpage you will be able to see our Google Trusted Store Badge. If you hover over that badge the image you see at the top of this blog post, will pop up. Those stats are your reassurance that BuyAutoParts can be trusted with your business. Those grades you see there are based on our same day shipping and our exceptional customer service. Not only do 97% of our orders arrive on time, but 99.9% of our orders our issue free!
The idea behind the Google Trusted Store program is to give shoppers more confidence when they make purchases online. Online retailers that want to become a part of the Google Trusted Store program can apply for free but they must meet the standards set by Google for fast shipping and oustanding customer service.
Shoppers who make a purchase at a Google Trusted Store can also opt in for Free Purchase Protection. Purchase protection means that if there is an issue with your order and you cannot resolve it with the company you purchased from, you can contact Google and request their help. We are so confident in our service that we want to give our customers that added level of security. We go out of our way to make sure every customer is competely satisfied with their purchase. That is exactly why 99.9% of our orders are issue free.
Becoming a Google Trusted Store is just one more way that BuyAutoParts.com is making it easy for you to buy auto parts. If you want to place an order or you have any questions, feel free to give us a call at (888) 907-7225.