The fuel pump regulates and pushes fuel from the gas tank to the motor of the car. Therefore, if you have a problem with your fuel pump not taking care of it fast enough will lead to your car having to sit out on the sidelines. Lucky for you fuel pumps don't just stop working out of nowhere. Other than the most obvious symptom of your car not running you should know some true warning signs of a bad fuel pump.  It is important to realize that while many of the symptoms I am about to give are good warning signs of fuel pump failure, they could also be indicators of other problems within the fuel system and possibly even problems caused by parts outside of the fuel system. So what are some signs to look out for?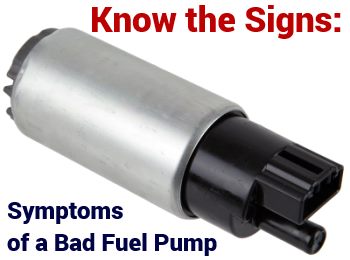 Sputtering sound coming from the engine
When driving does your engine jerk and then make a sputtering sound? It is highly likely something is up with the fuel pump, especially if you also hear clicking when the engine is engaged. While there are several other things this could be an indication of, a fuel pump failure is the most probable. You won't want to ignore the sound coming from your engine as doing so could leave your car stranded with an expensive tow & mechanics bill looming.
Loss of power while accelerating
This is a vaguer sign of fuel pump failure, as it could also be due to a bad fuel pressure regulator or worn fuel lines. However, if you are experiencing your engine shut down whenever you press on the accelerator to go past a certain speed threshold then you should definitely look to have your fuel pump (and fuel system) inspected.
Loss of power under stress
Have some extra weight on or inside your vehicle? Is this weight causing your engine to lose power? If so, this is a clear sign of a weakening fuel pump. Once again, don't ignore this, even if it only occurs when you have too much weight on or inside your vehicle.
Surging speed
If you are cruising along at 60 MPH and your car randomly surges up to higher speeds on its own it is most likely due to a malfunctioning fuel pump. This is caused because the worn fuel pump is delivering irregular resistance within the motor and at time kicks harder than it is supposed to, thus causing the surge. A surge can also be caused by an old fuel filter needing to be replaced, but it quite likely that it is the fuel pump that needs replacement and not the fuel filter.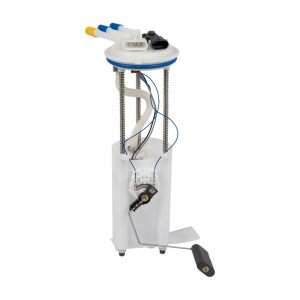 I would classify fuel pump replacement as an intermediate to advanced level repair meaning it is best to perform the repair only when your level of automotive expertise is high and you are comfortable working on your car. If you do not meet this level of expertise I would recommend taking your car into a shop and getting your fuel system checked out. We have fuel pumps and fuel pump assemblies for a wide variety of vehicles; do not settle on the high price the shop is giving you. BuyAutoParts.com makes it easy to buy online, and if you have any questions you can give us a call 888-907-7225.
Written By Dara Greaney