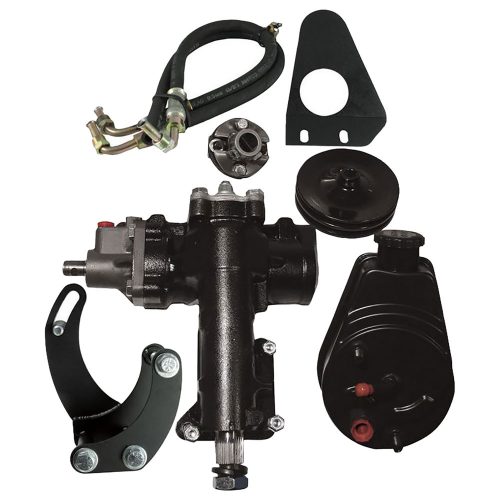 Adding power steering is a very popular modification for older vehicles, most notably old trucks or muscle cars. These vehicles usually have large V8 engines that put a lot of weight over the front wheels, and the trucks often have large, heavy off-road tires that further exacerbate the problem. Power steering reduces the amount of effort required to turn the wheel, especially at low speeds, so it makes these cars a lot more drivable. Since they were often available from the factory with or without power steering, it's relatively easy to add it to a vehicle that didn't have it before.
By virtue of many older American cars sharing a lot of componentry under the skin, we're pleased to offer a power steering conversion kit for nearly anything that came out of Detroit in the 1960's, as well as some newer and older stuff too. This would replace either manual steering, worn out factory power steering, or the hybrid of power assist steering that uses a ram cylinder and control valve actuating a sealed manual gearbox. For some applications we offer a rack and pinion conversion as well to replace a worm-and-sector or recirculating-ball steering gearbox. These applications typically use a steering rack from a Ford Mustang II, which is fairly ubiquitous in the world of hot-rodding. Rack and pinion steering offers more direct steering feel, since the tie rods are much shorter, and it also relocates the steering gear to make room for an engine swap.
For BuyAutoParts power steering conversion kits for your classic car, take a look here.
If we don't have a power steering kit for your vehicle, then chances are that Borgeson does. We are proud to be an official distributor of Borgeson steering parts and kits, all of which are manufactured in the USA. Borgeson has been in business since 1914 (so over 100 years) and are now the OEM source for any Saginaw steering components. They also have a very helpful technical support department that can assist with the most specific of questions. See all Borgeson parts available here.
Our business began nearly 30 years ago with steering components, so if you're still unsure what's the best solution for your vehicle, feel free to contact BuyAutoParts for knowledgeable assistance in getting the best replacement steering parts. We carry both brand new and fully remanufactured items from quality name brands like Borgeson, Unisteer, ZF, Duralo and more, all backed by a minimum one-year warranty (sometimes longer!) and US-based customer service. Our parts professionals are here and ready to help!
See here how to go the other direction and remove power steering from either a Fox-Body Ford Mustang or EG Honda Civic